Renovating a holiday cottage by the beach? Getting ready for staycation guests in the Isle of Man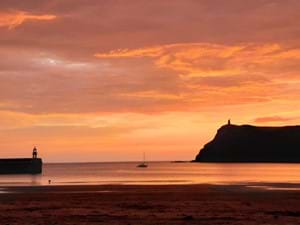 Holiday cottage at the beach 
So here we go again… we enjoyed the first property renovation so much that we are ready for a new one. As soon as we found that this cottage was on the market, we knew it was worth making an offer, so we jumped at the chance.
There is something about getting old clothes on ready for a few days of decorating that breathes life into me! It hasn't been long since the paint splattered shorts were out when we renovated Palm Villa  in Port Erin last summer, so I didn't have to look to far into the back of the wardrobe to find them.   
Making the cottage ready for guests 
The morning after completing, i hired a van early and excited. After picking it up and driving it home holding my breath all the way, i realised I had never driven anything quite so big and wondered how the heck I was going to get it into the driveway. I managed, somehow, and started the task of packing it with furniture we had been collecting over the last few months to up-cycle, beds, furnishings and everything we could think of for preparing the house.
Dog Friendly
The excitement was mounting as we drove onto Port Erin promenade ready to transform what is planned to be our new holiday cottage on the beach, just around the corner from Palm Villa. Our aim for the weekend was to give the house a test-run for family and dog-friendliness for guests, whilst working out what improvements were needed urgently, and figure out our long-term renovation plans.
Surfing and paddleboarding 
I decided my first job would be to give some of the bedrooms a fresh lick of white paint, and decide where to go from there, starting in the master bedroom. On with the decorating clothes, I started the task of sanding down and mist-coating. Some time later, paralysed by the view, I realised I had been watching surfers for an hour and not much progress with the sander! When the wind is up, the surfers are out, and in force. Some on SUP boards paddling out then catching the waves on the way back with paddle still in hand, some on surfboards. Not in the slightest bit chilly, I could see their happiness and laughter in the fabulous sea and glorious backdrop of Milners Tower.      
Fantastic pizza
Suddenly evening had arrived, and we had made good progress, definitely enough to justify that guilt-free feeling of a takeaway. Joined by the rest of the family and our happy Cockerpoo, we strolled a few metres down the promenade to Gusto's pizzaria, and brought the glorious smelling food back to the cottage. We decided to carry on enjoying the stunning view of the crashing waves and  devour the beautiful flavours in the first floor reception room, playing cards until darkness finally came.
View of the gentle waves
The next morning, I awoke in the spacious master bedroom opened the shutters to a calm and peaceful beach with gently lapping waves, a contrast to the previous evening. I had slept better than I had for several months, possibly due to the comfortable atmosphere, or the stillness outside.         
After making a cafetiere of coffee and walking out onto the beach with a steaming mug, our excited Cockerpoo couldn't believe her luck when she was released straight onto the beach rather than the usual busy road that we are used to at home.
Breakfast time
Breakfast of pastries from the local co-op, one minute walk up the road, and we were ready to make a start on some other rooms. As the children explored, designing a treasure hunt around the town for guests, the paint brushes came out, woodwork this time. Not long after, I moved onto the sunroom with grand ideas of attacking the garden terrace. This wasn't to be when I made the decision to paint the entire sunroom white to reflect the sun. A disused Belfast sink was brought back to life, windows were scrubbed, old paintwork was hacked and sanded, and the room started to take shape.
Afternoon picnic
A late walk to the local shops for drinks and picnic resulted in strange looks from the lovely locals- my hair appeared to have caught a large amount of gloss paint. I ought to have learnt this lesson last summer, after shocking my hairdresser after glossing at Palm Villa. A year after growing out this mistake, I had managed it again. Sorry Erin, when you re-open, we have this to deal with again!         
View of the beach
As the first coat of paint was drying in the sunroom, I returned to the 3rd floor bedroom with a view of the beach. What a distraction! Every time I saw a familiar face of a friend who was venturing out for a sea swim, or those wondering along with an ice cream, I wanted to fling open the large windows to shout hello, but thought better of it in case I brought down the tone of the pretty area, so a frantic wave had to do.
Up-cycled furniture
The locally bought pieces of furniture were now positioned and ready to up-cycle, but my hatred of naked wheelie bins was persisting and irritating me like an itch. Amazon had come to my rescue a few weeks before when I had woken with a sweat panicking about how to hide the unsightly piece of plastic, and luckily a solution has been found. Wheelie bin hidden in its own little shed, I was happy!
Next thing to fix was the (lack of) soft closing toilet seat, which had been a bit of a shock to the system every time a family member had been, in the form of a loud, smashing announcement! (Im sure you know mean- once you go there you can never go back!!)  Fixed into place, there was no longer a crash each time a family member decided to let the household know what they were doing!!
Sunny garden terrace
Making a start on the back garden, being ruthless and removing anything that's not perfect for my outdoor retreat, I set up a table and chairs in the exact spot where the beach can be seen from the back terrace, the perfect place for being in the centre of everything in a gorgeous seaside resort, yet a secluded private space. Sitting down and looking at the view, my eye wandered towards the end of the promenade where my cocktail would soon be waiting at my favourite outdoor cocktail terrace, when the announcement is made, and my heart filled with joy.   
Staycations for Isle of Man, and welcoming UK guests later in 2020
I feel excited for guests staying at our new cottage here when it is open for business,  and we will thoroughly enjoy getting this property ready. Palm Villa is filling up nicely for summer staycations, and Seaview is going to be the perfect addition for Seaside Cottages.  
Our excited Cockerpoo has given it the seal of approval, so we will be looking forward to welcome dogs too, as well as families, walkers, cyclists, train enthusiasts, golfers, … the list goes on.   
We will enjoy having fun documenting this renovation on instagram, follow us at Seasidecottage.im to watch the progress and fun we have along the way, and we hope to welcome you soon.