Cookery retreat with Leela's Kitchen
---
Cookery Workshop with Leela's Kitchen
Relax in our luxury Isle of Man coastal holiday cottage with a private chef
Our good friend Kumar Menon founded Leela's kitchen in 2011 in memory of his late grandmother Leela. She and his mother are the inspiration behind his passion for Indian cooking and spices. This culinary journey has continued with his daughter, also Leela, passionately carrying on the family tradition and working alongside Kumar.  
Kumar wanted to offer healthy Indian cookery workshops, which also lead to the creation of his award-winning spices and mixes, which are inspired by family recipes. These spices are GM free, freshly ground and hand-packed in the Isle of Man, which goes hand in hand with our passion to support local businesses.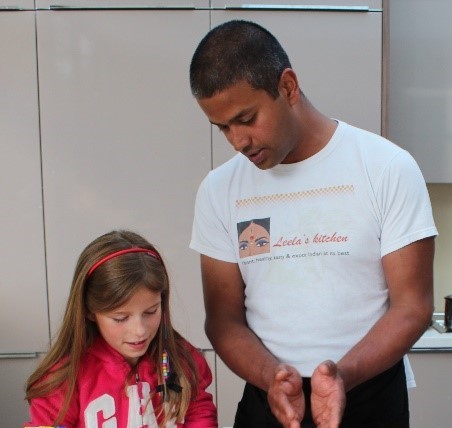 Kumar will show you recipes handed down through many generations. He will teach you step by step in this wonderful holiday cookery retreat, bringing together the perfect meal for you all to enjoy.
Dinner party delivery
If you prefer, save time in the kitchen to make the most of your experience or staycation in the Isle of Man, whilst being able to enjoy the holiday cottage at its best with its beautiful facilities. Kumar can chat to you in advance to discuss your requirements and prepare and deliver a dinner party for you to Palm Villa.
Put your feet up, have a relaxing drink and a chat, and enjoy the luxury of a meal arriving to your holiday cottage.   
Palm Villa is a modern newly renovated townhouse close to Port Erin beach set over four floors, each bedroom on a different floor with an open plan kitchen lounge diner, perfect to enjoy a cookery workshop.
To book this workshop and stay, please send an enquiry via this link and state "Leela's Kitchen" in the message