Best things to do in Port Erin in the Isle of Man
If you are looking for top attractions on the Isle of Man, you will find them in Port Erin
Not only do you have the glorious Port Erin beach, there are beautiful walks, top restaurants and atmospheric bars and pubs in this lovely village. Have a look at our gallery for some great Port Erin inspiration. 
Where is Port Erin? 
Port Erin is on the South West coast of the Isle of Man. It is adjacent to Port St Mary.  
What kind of beach does it have? 
Port Erin has a large sandy beach and u-shaped bay making it perfect for water-sports and activities. A long promenade running East to West runs parallel to it with water-sport hire, ice cream shops, cafes, bars and restaurants. 
In the summer months, there is a raft that you can swim to, volleyball nets and football goals on the beach, plus a stage with live bands at the weekends.     
What activities and water-sports are available in Port Erin?
Learn to paddle-board with a beginner's group at Port Erin Paddleboards, or hire the boards to enjoy a paddle yourself. Find them in the "wavy shelter" on the promenade  
Take sailing lessons with 7th Wave Sailing School or rent a kayak from their shop on the promenade
Learn to windsurf with Dave's Waves. Book in advance and Dave will come to Port Erin with all the equipment for a land lesson followed by time on the water. See our video here 
Enjoy a sea kayaking experience from Port Erin breakwater with Isle of Man Seas Kayaks
Try Coasteering from Port Erin with Adventurous Experiences  
Hire Fishing Rods and grab one of the best spots for angling, with advice from Heidis Fish and Bits 
Rent bikes from Erin Bike Hut, and follow these routes for a great day out from the South
Enjoy a round of golf overlooking Port Erin Bay, a short walks from the holiday cottages, at Rowany Golf Club 
Explore the many beautiful walks and rambles in the south of the island 
What else can i do in Port Erin?
Enjoy a steam train journey into Port Erin, and visit the Victorian Railway station and museum, with a coffee and lunch at the Whistlestop Coffee Shop inside the station
Grab a bus or train to Castletown to explore the historic castle and Manx heritage
Enjoy live music in many Port Erin venues where the atmosphere is electric  
Indulge in Fish and Chips on the Port Erin headland, with the breath-taking view  
Enjoy a cocktail or beer on the beach at Foraging Vintners at the eastern break-water end of the promenade, sitting outside during the summer, and by the cosy log burner inside during the winter months. In the summer you will also find Foraging Vintners at the western end by the light-house. 
Indulge in meals and coffees in the lovely restaurants and coffee shops, with some ideas here   
Take a wander around some of the lovely shops in the village, head to The Papered Nest, Trend, With Love & Hugs and The Good Health Shop for inspiration 
How do I get to Port Erin?
You can take a steam train from Douglas, or a bus. If you are coming from the airport, jump onto the airport shuttle. It takes around 10 minutes from the airport, and 35 minutes from Douglas in the car. The train and bus takes slightly longer.  
If you require further details about the local area, walking routes, cycle routes, dog walks or any general information, please contact us  
We look forward to welcoming you soon. 
A holiday in the Isle of Man
Read our five day Port Erin itinerary for ideas and inspiration when you come for a holiday in Port Erin
Top Sights in Port Erin and the South : Free download!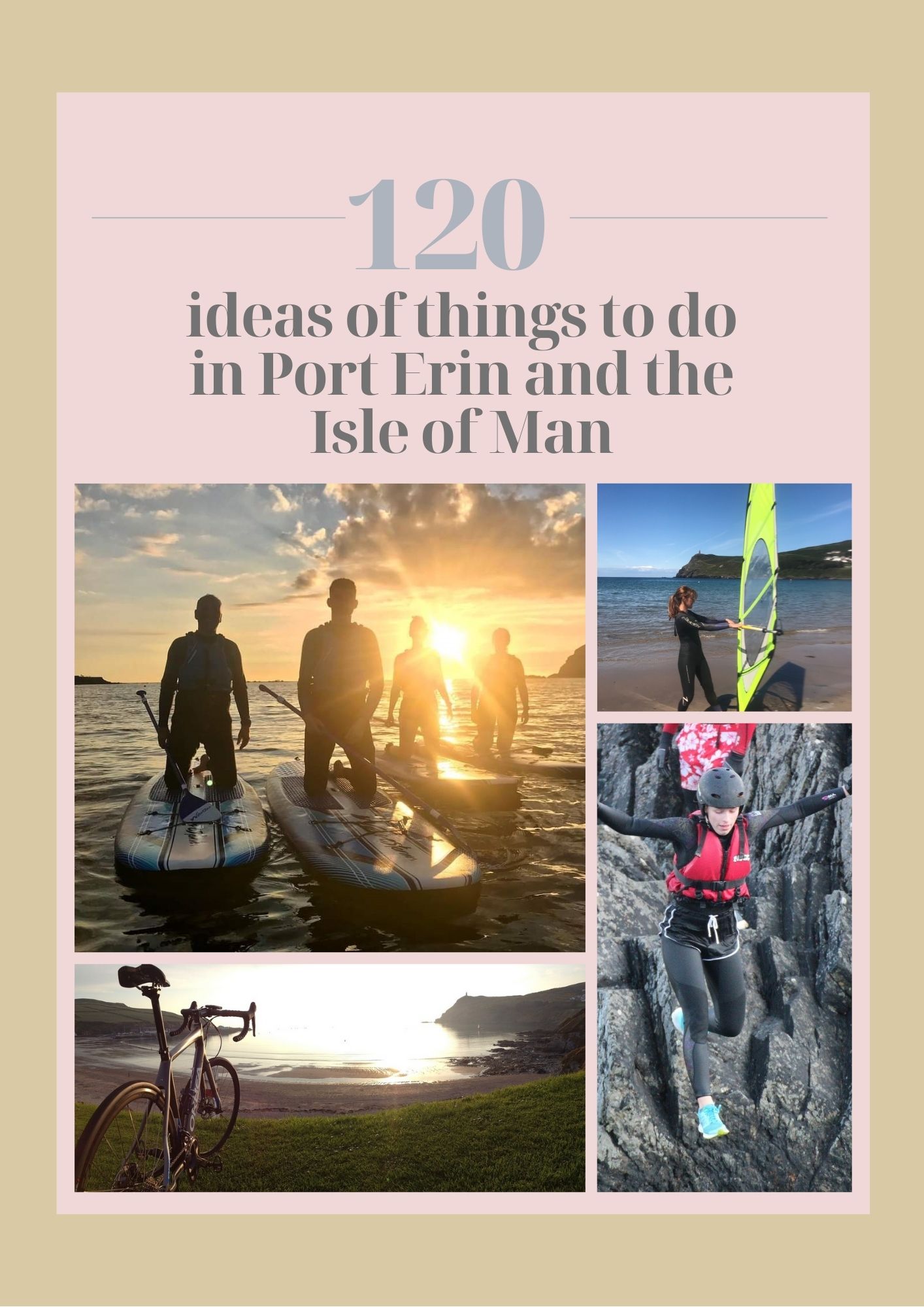 To see what the Isle of Man has to offer, whether for a family, a group or by yourself, download this fantastic guide we have put together just for you 
👇
120 Ideas of things to do in Port Erin & The Isle of Man 
For any questions you have about accommodation or the Isle of Man, or whether you would like some help planning your stay, get in touch at seasidecottagesiom@gmail.com
Follow us on instagram and facebook to see us enjoying all of these activities ourselves!!