Weekend walking ideas in the Isle of Man: 6 suggestions during the perfect Manx staycation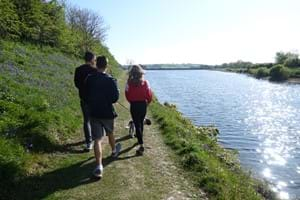 Daily exercise with your family
Experiencing the Isle of Man on foot is a wonderful way to get around. Rambling countryside, beautiful views and pretty glens make it comparable to a day out in the Lake District, and give us the chance to see all the open air Heritage sights  that the Isle of Man has to offer.   
It means fantastic family time in the fresh air, whether it be an exhilarating climb up Snaefell or having a stroll around a reservoir. 
Footpaths
The Island's marked out footpaths make the most of the gorgeous scenery and nature. How about selecting parts of these routes to complete in sections? 
The ultimate long distance coastal footpath
The way of the Gull. 98 miles around the Island's coast, different sections can be tackled over a few weeks or throughout a staycation summer including quiet beaches and dunes, cliff footpaths, over farmland through wooded glens.  The footpath is never far from the sea. It is suitable for the gentle walker to do in short day-walk sections over the course of a holiday, or over several weekends. For a dedicated backpacker or fell-runner, great personal challenges can be set on this beautiful circuit of the Isle of Man. If you are a keen Geocacher, 230 Caches can be found along the way.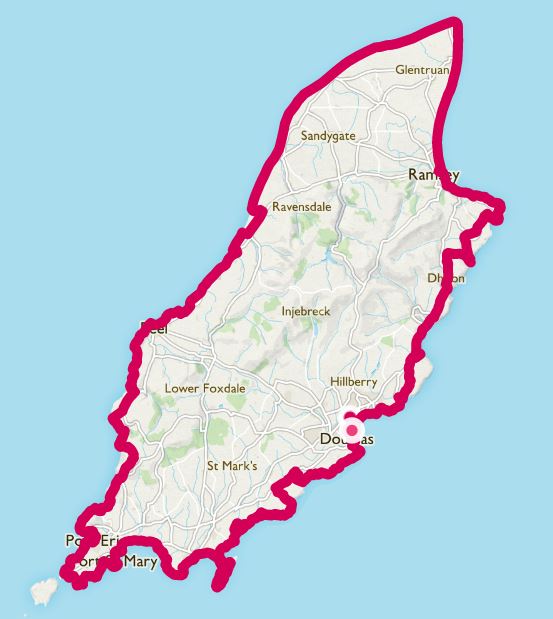 28 miles from the north to the south. It can be completed in a day by a fit walker, or split into sections. For the full journey, start in Ramsey, climb Sky Hill, and continue to West Baldwin across open moorland with stunning views past the beautiful church of St Lukes. Continue to Crosby and start the climb towards Marown old church. Head towards St Marks and continue to Rushen Abbey and the Silverburn River before you arrive at Castletown. A lovely way to do this walk in sections from Palm Villa or Seaview is to take the Steam train or bus from Port Erin to Castletown, and enjoy the pleasant walk from Castletown to Crosby which takes around three hours.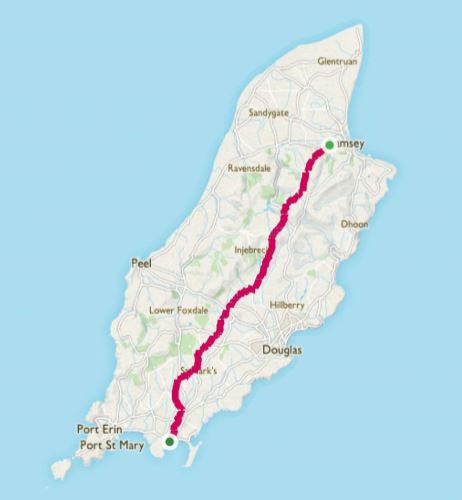 10.5 miles, a flat easy walk along disused railway lines, from Douglas to Peel. This is a wonderful family walk along a quiet path, with plenty of resting areas and picnic benches along the way, and the luxury of an ice cream at the end. A favourite for dog walkers, Fenella beach in Peel is a great opportunity for your dog to have a splash in the waves after a long walk. 
A guide to the footpaths can be downloaded here 
Hills and Mountains
If a short sharp climb is what you have in mind, with glorious rewarding views from the summits, the Island's hills and mountains are a perfect and accessible way to enjoy your daily exercise. 
Snaefell is the Island's only mountain, 2036 ft above sea level. Park at The Bungalow or take the tram from Laxey on the Snaefell Mountain Railway and alight at the Bungalow, to tackle the mountain on foot. The moderate ascent to the summit can be tackled in half an hour. The saying goes that once at the summit, on a clear day, you can see seven kingdoms: Mann, Scotland, Ireland, Wales, England, Neptune and Heaven! On the way down, if you have come by tram, cross the mountain road at the Bungalow, and continue on to Laxey through Agneash Valley, taking in the Snaefell  mines, the village of Agneash and the Laxey Wheel on the way. A great family hike. 
North Barrule
The Island's second highest peak. Park at Black Hut, and across the road is a signposted footpath. First ascend the peak of Clagh Our, a short 20 minute climb, then walk along the ridge of hills to the summit of North Barrule, a peaceful 2 hour walk. 
South Barrule
For a climb closer to Port Erin, South Barrule rises to 1585 ft. From Round Table Road, there is a small area of parking on a rough track by the A36 Sloc Road.  The path to the summit is around half an hour's walk. From the summit, the coastline of Ireland, Scotland, England and Wales can be seen on a clear day, plus much of the Isle of Man. To the south, the view is over the beautiful Cringle plantation and Reservoir, and the view North is the gorgeous central hill range. Perfect for a dog walk, the summit is a perfect spot to reward yourself with a picnic. 
Self-guided walking routes
For self-guided walking routes, have a look at Visit Isle of Man's site here.  Other options include The Forestry Warden walks which are 1.5 to 3 hour walks off the beaten track, split into easy, moderate and strenuous. Alternatively, the old fashioned way, a walking book. It takes me back to when we were kids having holidays in the Lakes, Dad holding a pocket book up all the way and enthusiastically narrating the trip; special memories. 
Consider using a walking guide
For ease on your holiday or day out, perhaps consider a walking guide who can tell you about the area and the history of the Isle of Man as you enjoy the scenery.  We chatted to Manxwalks who recommend a couple of their favourite family walks around the south of the Island close to Seaside Cottages:
From Port Erin, walk south along Ballafurt road and continue this way on the coastal footpath around the Meayll Peninsular, then three choices. Either walk to the beautiful  Chasms, Cregneash, or the Sound depending on preference(and appetite), then back towards Port St Mary along the Howe Road. Once you have wandered along the promenade, loop back towards Port Erin, or take the steam train.   
For something more strenuous, Catriona suggests walking from Port Erin around the Rowany Golf course and Bradda Head, down to Fleshwick Beach. Then climb, heading left, and take the coastal footpath back around Port Erin to Bradda Head.    
What better way to have family time and make the most of what we have on our doorstep, without leaving the Island or spending a penny. Whether it is one hour climb, or a seven hour day out, with these exciting walking options and challenges there is something to suit everyone, especially with the rewards of the stunning views and Manx history we can see in return.
If you would like any further information about routes or ideas, please don't hesitate to contact us at Seaside cottages, and we will be delighted to help.    
Dog Friendly Isle of Man accommodation at Seaside Cottages, Port Erin beach
If you would like to enjoy the Isle of Man once restrictions ease from a dog friendly cottage at Port Erin beach, stay with us! Contact us here now for availability.
Our cottages sleep up-to six each and are self catering. 
Palm Villa  is in a quiet lane behind the main promenade, a one minute walk to the beach and has a three night minimum stay, five in high season 
Click here  to see rates , availability and to book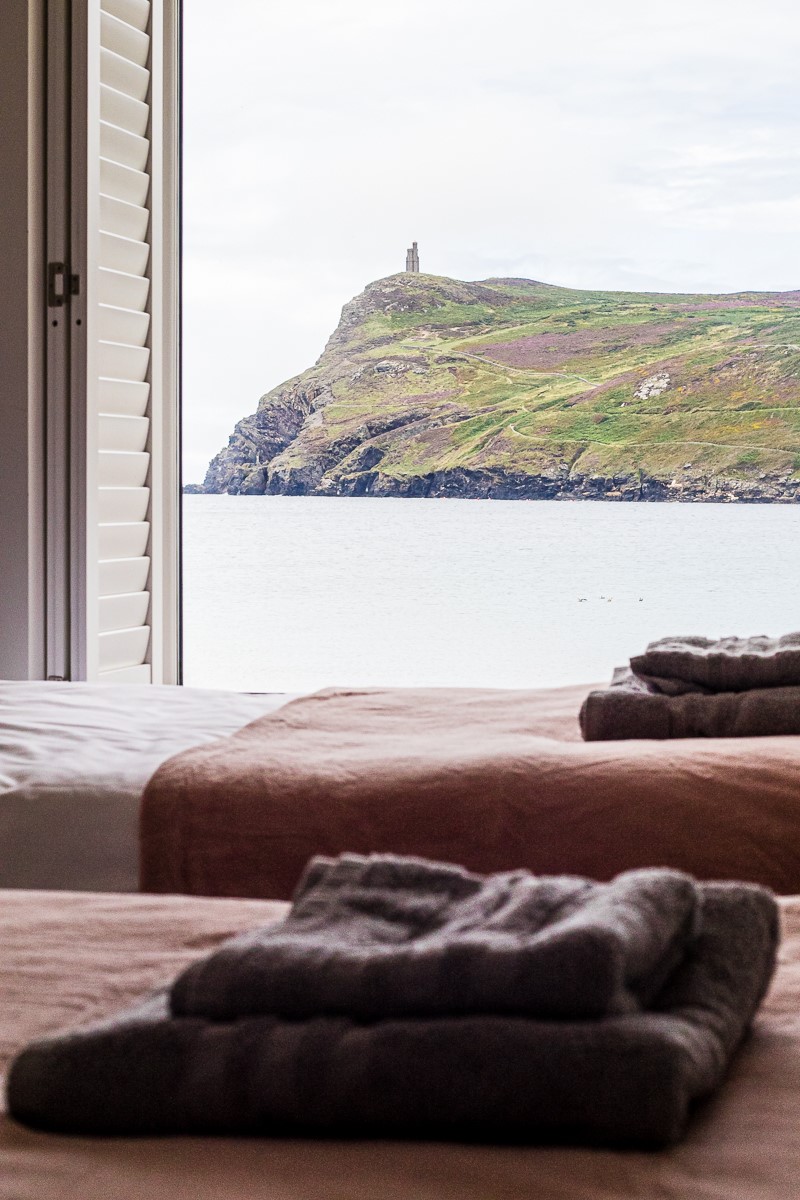 Seaview is located on Port Erin beach and has a five night minimum stay, seven in high season 
Click here  to see rates , availability and to book 
By mail or email for those who would like to send a present, but are unable to reach a shop due to current restrictions 
We can cater for a group of upto 12 in both cottages and they are located very close to one another.   
See www.seasidecottages.im for further details.  
Port Erin self catering accommodation
For bookings, click here for our Isle of Man holiday cottages  and please contact us with any questions or specific requests here
To sign up for interesting articles about the Isle of Man, our emails and special offers
Read our blog featuring: 
26 top restaurants and cafes in Port Erin and the South
Live music venues in the South
Walking Holidays in the Isle of Man
If you would like any further information or suggestions about activities for your holiday or staycation, please contact us here. We look forward to welcoming you.