Fancy a golfing holiday? Stay with us and play at Rowany Golf Club in the Isle of Man
September 16. 2020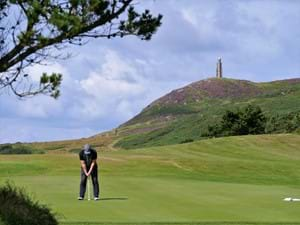 A delightful game of golf when you are having a holiday or a staycation in Port Erin is a great way to spend some time. The closeness of Rowany Golf Course to Palm Villa and Seaview really makes this easy and enjoyable.
We chatted to Ged Power, Captain of Rowany and owner of Isle of Man Golf Holidays, as he showed us around the course.
Rowany
As we admired some of the best kept greens on the Isle of Man,  and home course to European Tour Professional, Tom Gandy, Ged talked us through the 18 hole course and described the friendly atmosphere that this club has, which we witnessed ourselves.
Par 70 and 5722 yards long, with a gentle opening and some challenges later on, the 18th provides a spectacular view of the stunning bay and the Irish sea.  At a very reasonable £25 per round, this course is a mixture of challenges.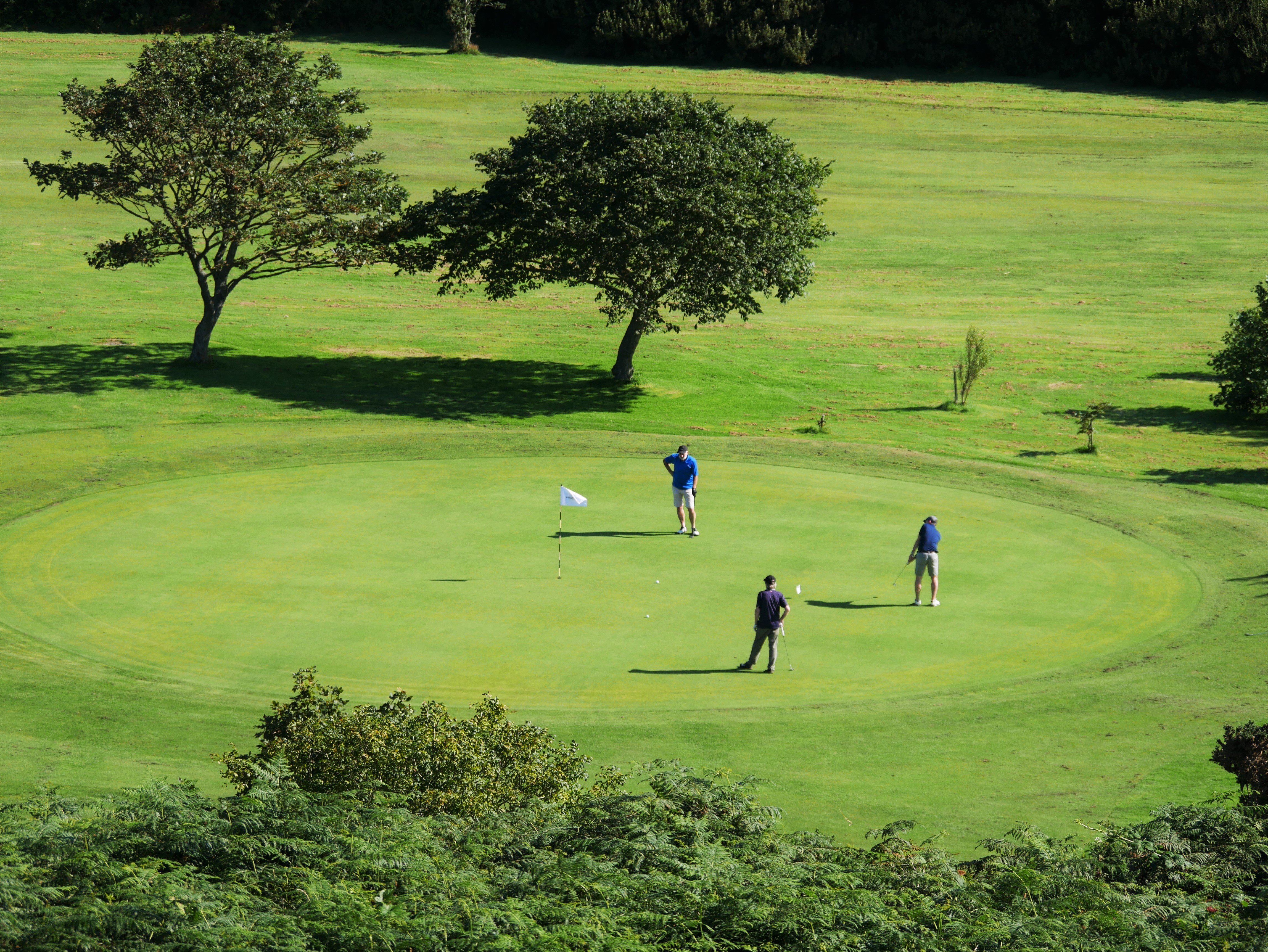 Ged showed us the practice range, a perfect opportunity for beginners or improvers, and told us  about the coaching facilities and ladies academy. We were delighted to also see a beautifully kept putting green and mini golf, overlooking Port Erin bay, which we felt would be perfect for our guests who are non-golfers, as a daytime activity in Port Erin.     
Isle of Man Golf Holidays
Relaxing in the club house over a cuppa, he brought us up to date with what was happening at Isle of Man Golf Holidays, Ged's company when he isn't on the green.
He will collect from the airport or boat by minibus, and keep equipment secure so that you can wander up the road to Rowany from your Seaside Cottage, and everything is ready for you. On other days Ged will take you on a tour around the Island's courses to sample in Castletown, Ramsey and  Peel  
As the cottages are self-catering, you would have the option to eat in, or eat out at the many restaurants en-route home from the courses after a day out.     
To make life easy, Ged can supply Ping clubs and trolleys if you don't have your clubs.
Resurgence of the game
Chatting to Ged about golf in general, we learned about the resurgence that the game has witnessed in 2020, especially in the Isle of Man. Part of this maybe down to the incredible success of our home grown golf hero Tom Gandy currently performing well on the European Tour. Maybe also Tiger Woods coming back into the game, perhaps lockdown making people fall back in love with Golf.
In any case, Rowany has it all, a friendly and fun club, a great round at minimal cost, family activities for on-golfers, and Ged to look after you.
To book  
If you would like to book a round at Rowany contact here
To speak to Ged about Isle of Man Golf Holidays and staying in Port Erin, contact ged@isleofmangolfholidays.com  
To stay with Seaside Cottages at Palm Villa or Seaview, contact us here or email seasidecottagesiom@gmail.com
Both cottages are fully self catering, sleep 6 each with 3 bedrooms in each cottage, and are close to the beach and Rowany and are dog friendly.
We can cater for a group of up-to 12 in both cottages and they are located close near to one another.   
To sign up for interesting articles about the Isle of Man, our emails and special offers