A fantastic night you have to try in the Isle of Man- Mad Jack's Axe Throwing
July 17. 2020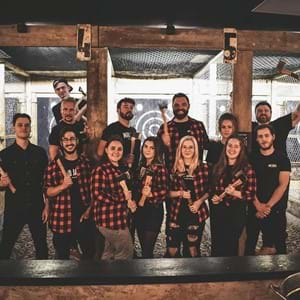 It was a Saturday evening and we fancied a night out with friends. We were looking for something different and a really good giggle.
We had seen Big Zuus Big Eats on Dave one night by chance and thought it was hilarious, and it had featured the Wicked Wagon coffee bar. We had heard that Mad Jacks and the Wicked Wagon were something new on South Quay, so we decided that this was it, and would give it a go.       
As soon as we walked in we felt a vibe of cool video arcade meets American diner meets Axe throwing alley, with sawdust, atmosphere, and seriously the best playlist we have heard in a long time!!
After checking in and receiving smiles from the bouncing team who were all merched up in their Mad Jack's hoodies, we were given an ice bath to put all our bring- your-own drinks in, shown to a table, and our party started.
We were collected by James, our Axe throwing coach for the night, soon to be good mate.
We stepped over to the axe throwing area and handed our axes. These were real size axes, not sure what we were expecting or why we were surprised, but there we were now feeling giddy and slightly dangerous!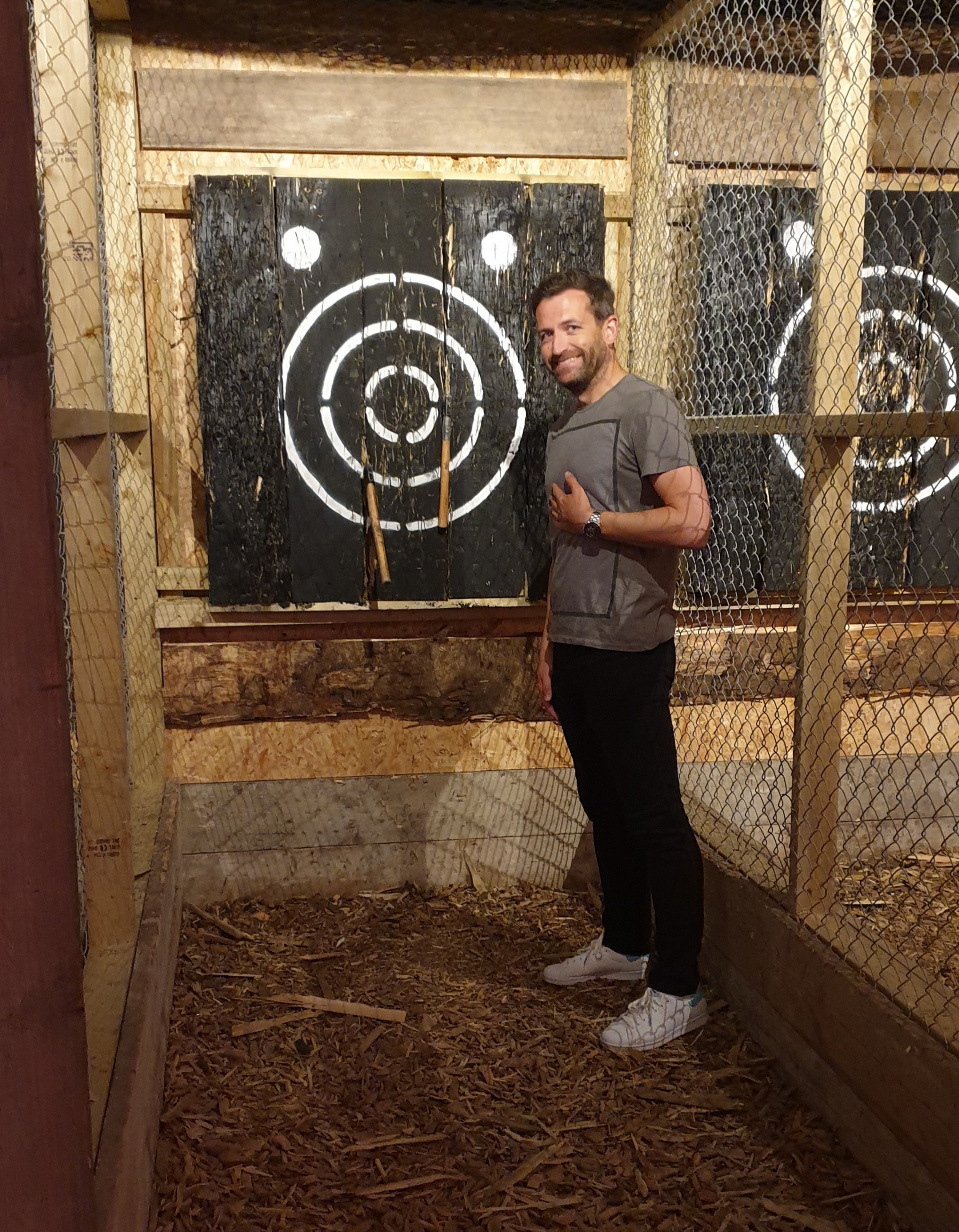 Two at a time taking two lanes, James talked us through the easiest method of throwing the axe. We started tentatively and carefully on the first attempt, soon feeling more confident and quickly becoming addicted.
Getting the axe anywhere near the target, and actually to stay on the target, was the first achievement, but then realising how much power could go into this throw gave us a shot of adrenaline.
Now in the swing of things, it was the turn of the hubby. Watching was as fun as throwing, and photographs certainly could not be avoided. The playlist was getting even better and  our beer was staying cold, heaven! It wasn't long before we were laughing so much that our cheeks were stinging!
Back to my turn, I was shown a different method of throwing the axe, and this felt stronger. I couldn't avoid my throws being slightly wonky, so I had another go, and another… this was hard to stop!
Soon i was throwing in unison with my good friend in the next lane who, out of the corner of my eye, reminded me of a Charlie's Angel! Walking back into position after each successful throw we couldn't help but break into a celebratory strut; just like that feeling when you've managed a strike at Ten Pin Bowling. We decided not to try to hide it, wiggling back to position to "Shoot that Poison Arrow" by ABC in a shuffle-onto-the -dancefloor- from- the- bar- kind of way, with axe in hand.
After more hilarious spectating, it was time for a competition between the group. James kept score, making sure we were enjoying ourselves, giving us tips on how to aim.
Cheeks burning with laughter at this stage, the atmosphere in the place was great, there were groups in every other lane, platters being delivered to tables and smelling incredible, and those who weren't axe throwing were playing pinball, air hockey, basketball, other games.
After our hour was up, it was very tempting to ask for another hour since walk-ins are allowed without booking, but the smell of the Wicked Wagon platter was giving us other ideas! We ordered food, played air hockey, and chatted to the excited management team Sean, James, Larry and Molly, all cousins,  and all very happy to be running a business that's great fun and very different for the Isle of Man.
James showed me the cool café and the hallway in between full of consoles and decorated with movie posters and a VHS wall. The place had a real retro 80s vibe. He showed us a kids version of the axe throwing with a safe foam axe on a target which happened to be just as addictive, which made it great for families during the day.
The whole experience had a great welcoming feeling of friendliness from all of the staff, which absolutely made our night, and we will definitely be back soon, thanks Mad Jacks!
Seaside Cottages
Its easy to get the Steam Train from our holiday cottages in Port Erin straight to South Quay in Douglas to enjoy Mad Jack's. 
Palm Villa is available late Feb for holidays and staycations and is open to our wonderful guests from further afield when the Isle of Man borders open.
Seaview is located on Port Erin beach with availability from March. To enquire about availability please contact us HERE.