A special Isle of Man Holiday Cottage Welcome Pack Treat
October 19. 2020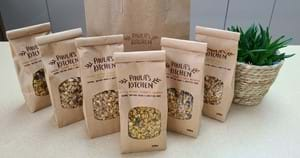 When I buy a bag of Paula's kitchen granola, I find it very hard to let it sit there until breakfast! If I could, I would happily fill my cupboards with the many different flavours, and have a different one for breakfast lunch and dinner (plus snacks!)  
But what a way to start your day!
A huge Paula's kitchen granola fan myself, I had been keen to provide Paula's granola to our holiday cottage guests so they could sample it for themselves. So i contacted Paula and had the absolute pleasure of meeting this wonderful lady, and she gave me a a tour of her gluten-free kitchen.   
Where Paula started
I chatted to Paula about how her creation and business started.
A family business, she started four years ago from their Isle of Man home as a hobby. She started producing and selling her granola at the Food assembly at Noa bakehouse, and the rest is history.
A spell cooking at home in her own kitchen then lead to the need for more space, and to her industrial unit in Douglas. 
Gluten-free
It was important to her to make a granola that was gluten, dairy and additive free, with no sulfates, for those in mind with allergies or following particular diets. 
And snacks...
Its not just granola Paula is producing. After the success of the food assembly, along came snacks, energy balls, flapjacks, brownies and shortbread. Even Paula's packaging is thoroughly thought-out: Biodegradable, minimal but classy and looks chic on the kitchen shelf.
Collaborations
Paula loves to collaborate and support local businesses,  and has been humbled by the support she has received from others.
She remarked that Robinson's have been huge supporters where her produce is stocked at Ballapaddagh.
Her goodies can also be found in The Good health store in Port Erin, Close Leece Farm and  Riley's, and you will see her vegan options on menus at The Boatyard and The Cupcakery.  
Tremendous support has also been received from Shoprite and EVF where you will find Paula's range of health foods. 
Accolades 
As Paula showed me around her spectacularly immaculate, minimal, white kitchen, with a cosy sprinkling of fairy lights, I noticed some certificates on her wall; Great taste awards - Impressive and totally deserved, as is the feature in The Island Kitchen Volume 2.  
A treat
While I was chatting to Paula, she placed in front of me a small bowl of goodies to try. Attempting to focus just on our conversation, my mind was on the fudge cacao energy ball and the trail mix flapjack that I spotted straight away. Way too distracted, within a minute I had dived in and sampled a chocolate heart made of Medjool dates, cocoa, Himalayan salt and ground walnuts. A little bit of heaven
Seasonal baking
Wondering around her calming kitchen, I noticed an amazing aroma of strawberries that were being dehydrated. This was for the seasonal strawberry and almond chia granola.
Paula explained how the new seasonal baking was about to start with her "Gloriously Festive Granola" made with winter spice, roasted nuts, natural honey and gluten free oats.
If its my choice I have no doubt that my next cuppa with Paula will be when a batch of this festive granola is cooking, and if I can box up that aroma, I will, its going to be sensational!
Seaside Cottages welcome packs
We are delighted that Paula's kitchen 250g granola packs will be introduced into our Seaside Cottages welcome packs from the end of October, and when you are ready for more, head up the road to the Good Health Shop in Port Erin where you will find it on the local suppliers stand.
Seaside Cottages
Our self-catering holiday cottages by the sea sleep 6, are close to the beach and are dog friendly. For enquiries, contact us here 
Click here to view the cottages 
Palm Villa still has some availability in October and November, and the first week in December. Click here  to book