Autumn coastal cookery workshop and holiday cottage retreat
June 22. 2020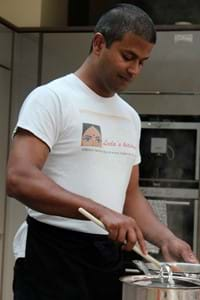 Relax in one of our luxury Isle of Man coastal holiday cottages with a private chef.
Experience a foodie break by booking one of our coastal cottages and enjoy delicious chef prepped food. Experience demonstrations, learn tips and techniques to make your Autumn retreat a special occasion for your family or group.
The perfect dining experience by the sea
Our good friend Kumar Menon founded Leela's kitchen in 2011 in memory of his late grandmother Leela. She and his mother are the inspiration behind his passion for Indian cooking and spices. This culinary journey has continued with his daughter, also Leela, passionately carrying on the family tradition and working alongside Kumar.  
Kumar wanted to offer healthy Indian cookery workshops, and this has also lead to the creation of  his award winning spices and mixes, which are inspired by family recipes. These spices are GM free, freshly ground and hand-packed in the Isle of Man, which goes hand in hand with our passion to support local businesses.   

Cookery workshop with Leela's Kitchen
Learn the fine art of Indian cooking in the comfort of your Seaside Cottage. Kumar will show you recipes handed down through many generations. He will teach you step by step in this wonderful holiday cookery workshop, bringing together the perfect meal for you all to enjoy. Have a wonderful stay at Palm Villa or Seaview with this amazing chef, and receive recipes to take home after your stay with us.
Contact us here to enquire about Autumn Isle of Man retreat with an afternoon or an evening hosted by Leela's kitchen         
Dinner party delivery
Save time in the kitchen to make the most of your experience or staycation in the Isle of Man, whilst being able to enjoy the holiday cottage at its best with its beautiful facilities.
We can arrange to have a meal prepared and delivered when booked in advance. Forget worrying about timing and buying supplies. Instead, put your feet up, have a relaxing drink and a chat, and enjoy the luxury of a meal arriving to your holiday cottage.   
For more information, please contact us here . As a proud UNESCO Biosphere partner, Leela's Kitchen provides completely biodegradable packaging for their products.  
Seaside Cottages
If you would like a change of scenery and stay in one of our holiday cottages in Port Erin, please contact us . Palm Villa and Seaview are at Port Erin beach, with three bedrooms, sleep six, and are dog friendly. 
To see Seaview click HERE
To see Palm Villa, click HERE  
See www.seasidecottages.im for further details. 
Gift vouchers are available by emailing seasidecottagesiom@gmail.com or send a message on Seaside Cottages site 
To sign up for interesting articles about the Isle of Man, our emails and special offers
For more information about the range of spices and ingredients for sale to purchased from Leela's kitchen, please don't hesitate to contact us here