Things to do in the Isle of Man for the best family staycation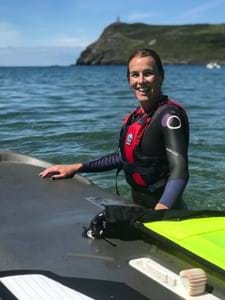 Fancy trying windsurfing for the best family staycation in the Isle of Man? 
Port Erin beach  
Have you thought about windsurfing? Sporty or not, I would highly recommend taking a lesson, and what better time to do it than a staycation summer.
I tried it myself (video below), with my good friend Dave Wilson from Dave's Waves as my instructor.  
As an experienced and happy open-water swimmer, I felt that this was the new challenge for me. But walking out of the holiday cottage to the beach, I started to feel slightly different.
Would I pick it up? Would I actually be able to stand up? 
One of the beautiful Isle of Man beaches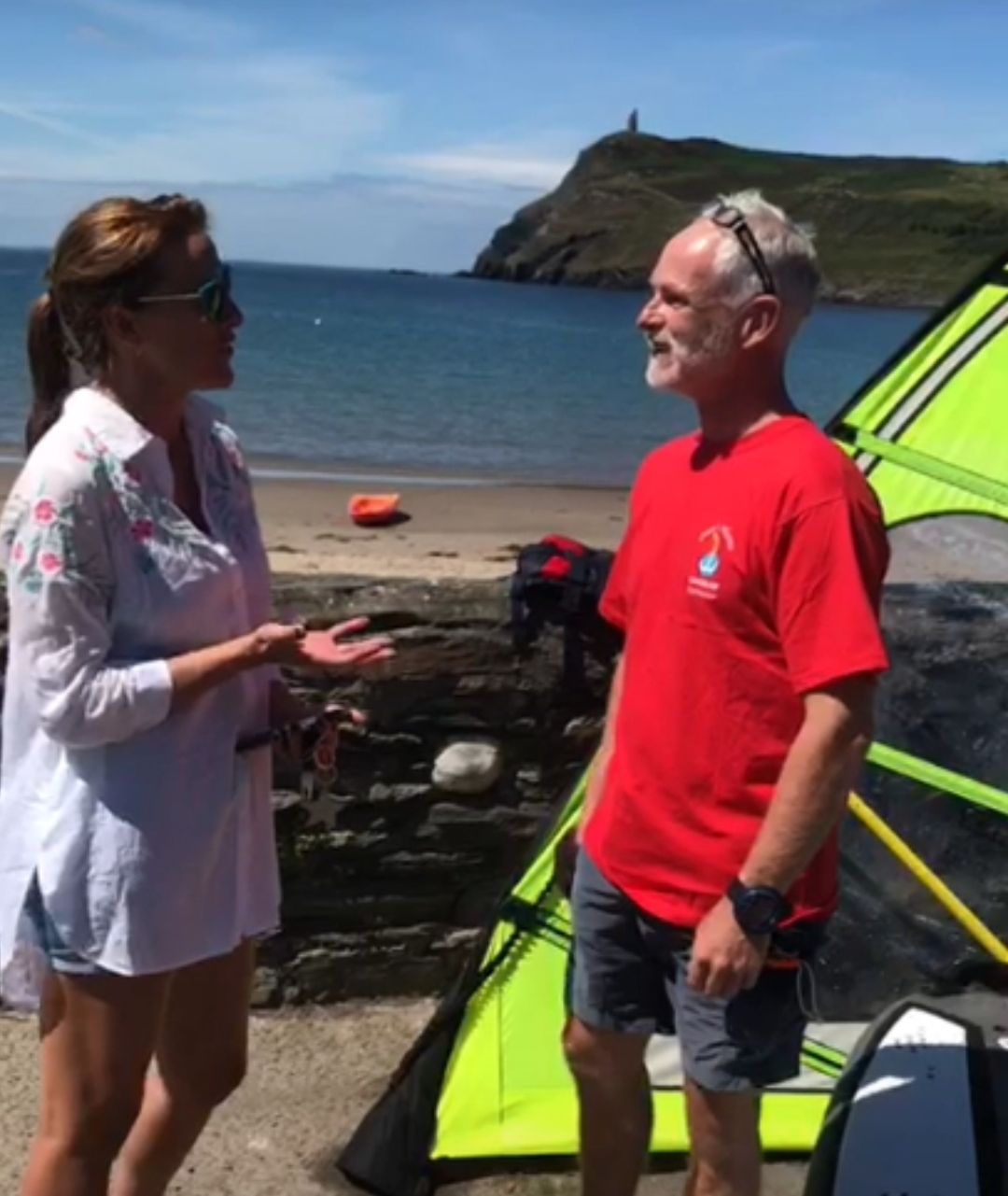 The day was glorious, and there was just enough wind, so whichever way this went it was going to be a really pleasant day out!
I had a chat about his company Dave's Waves, and how long Dave has been running his business whilst we did a beach clean. 
He introduced me to the different parts of the board and explained the technicalities so I fully understood how it worked.
He even ran through it again, to ensure I was going to be completely safe.
I was happy! 
Preparing for the Isle of Man surf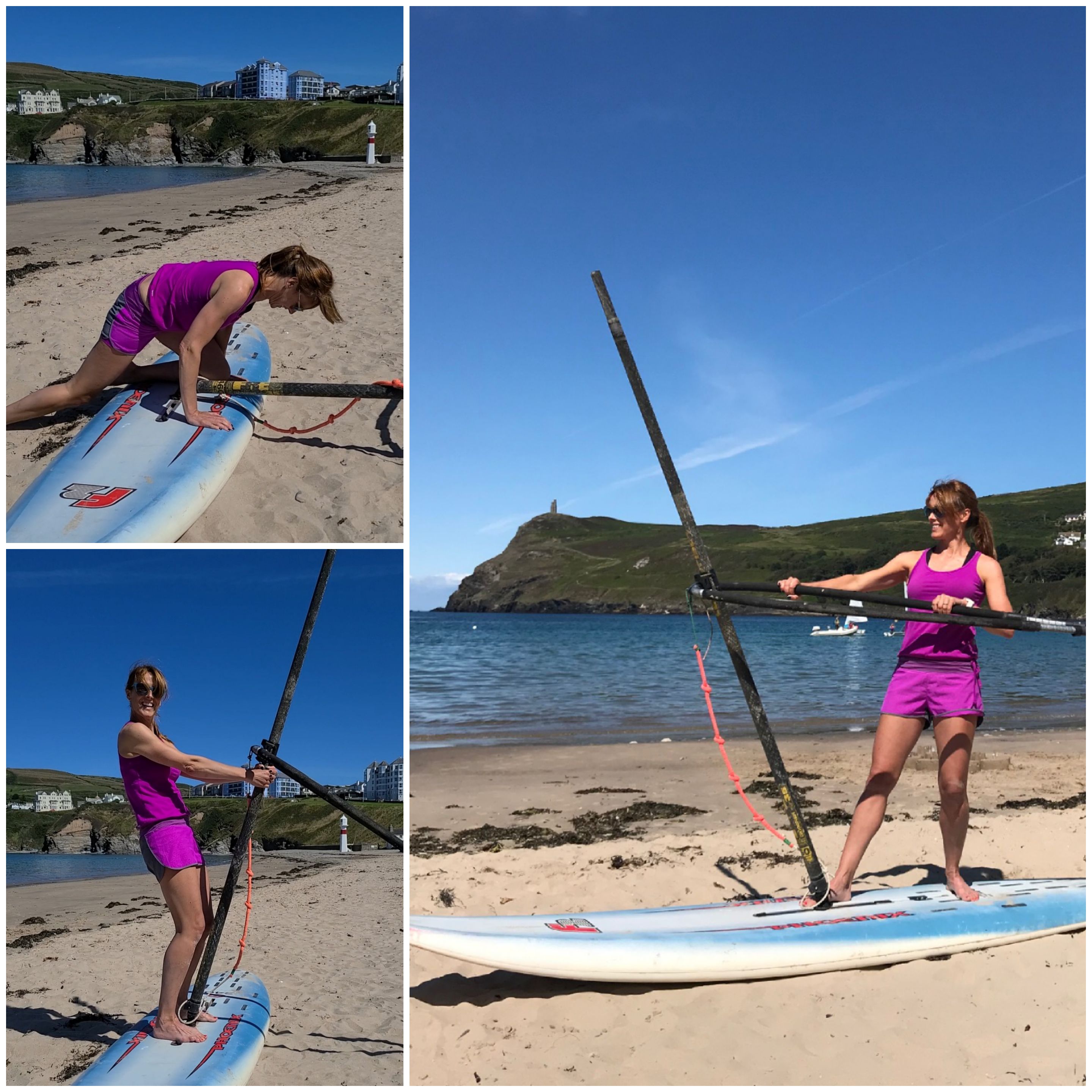 Dave then demonstrated the drill of getting onto the board on land, showed me how to turn, and we repeated this so that once I was on the water it was going to be auto pilot. 
I tried my land based board mount, and again, until he knew I was 100% content with what I was about to do in the glorious bay. 
Windsurfing lesson safety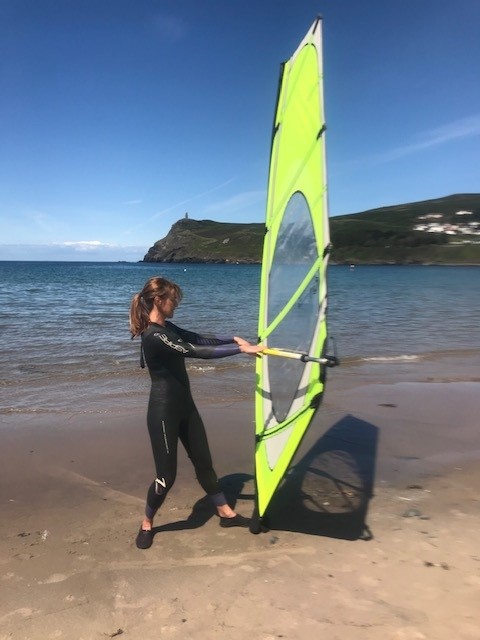 It was then time to put on the wetsuits. Suited up and back on the beach, I spotting a couple settling nicely to some daytime entertainment ready to watch me have a go at this new challenge! We shared a giggle! 
Learning how to lift the sail first to enable me to turn on the water, i felt safe and was ready. 
Paddling into Port Erin bay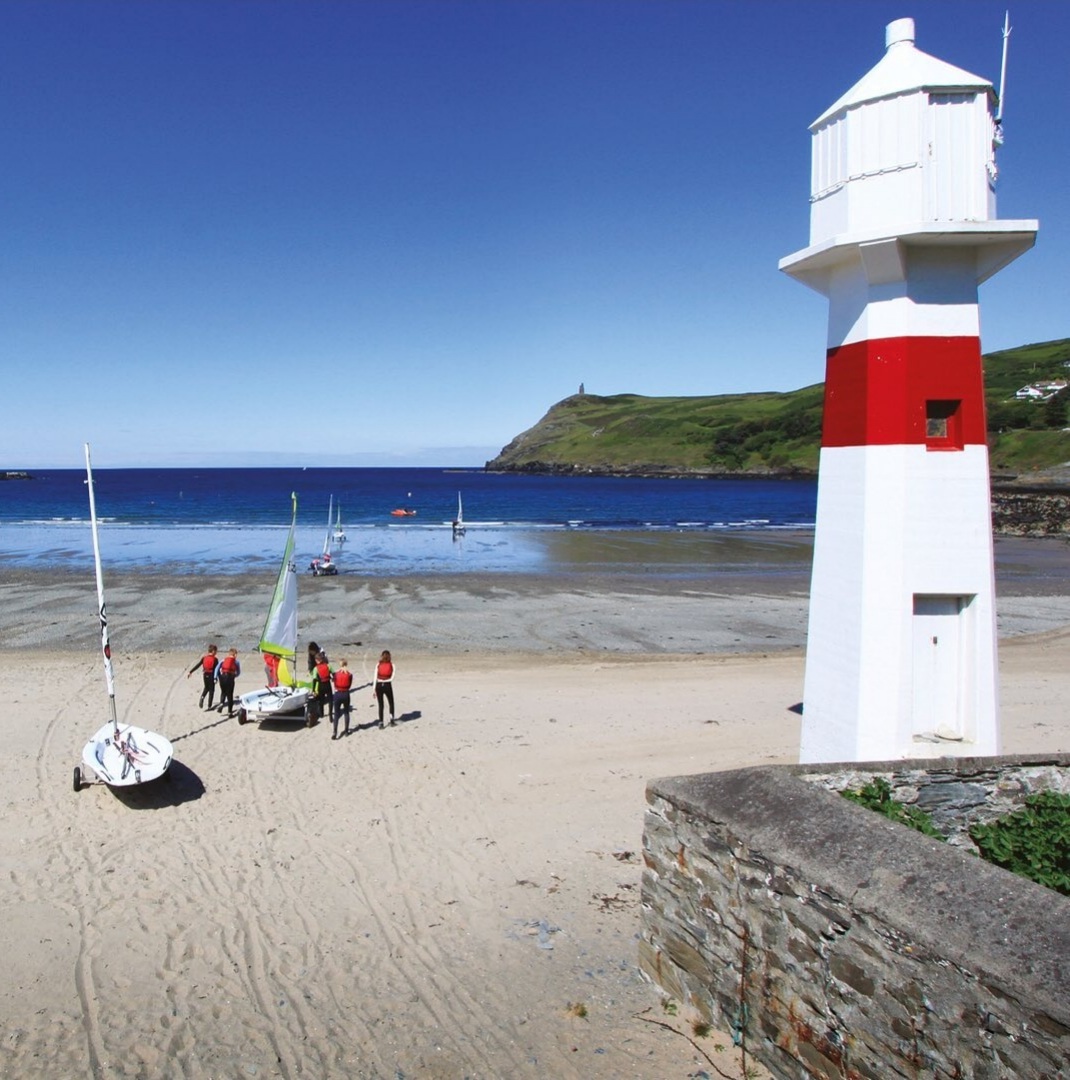 We paddled out into the bay to my favourite view of Port Erin, floating on the water looking back at the pretty lighthouse. 
Safety first, Dave taught me how to put the sail on the back of the board, resting my foot on the sail to paddle back in case I needed this in an emergency situation. 
Standing upright on the board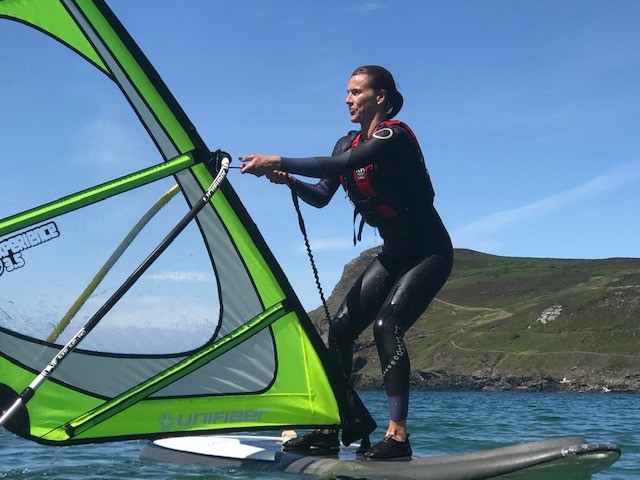 I began to go through the drill that we had learnt on land, trying to get upright and onto the board.
I was up and it was time to practice lifting the sail, but as quickly as I had managed it, I was back in the water again, and again! Dave's wonderfully encouraging manner really helped this feel fun, and the laughs continued!   
Such a patient windsurf instructor 
Incredibly patient, Dave carefully talked me through the motions every time as I became more and more determined that I could do this.
A small rest, then I decided this was going to be it, I was staying up no matter how many tries it was going to take me. It worked, it had finally clicked, I was windsurfing!
It was now time to practice a turn, although I knew this wasn't looking elegant, but Dave's prior beach instructions worked. Then time for another rest. 
Port Erin's beautiful bay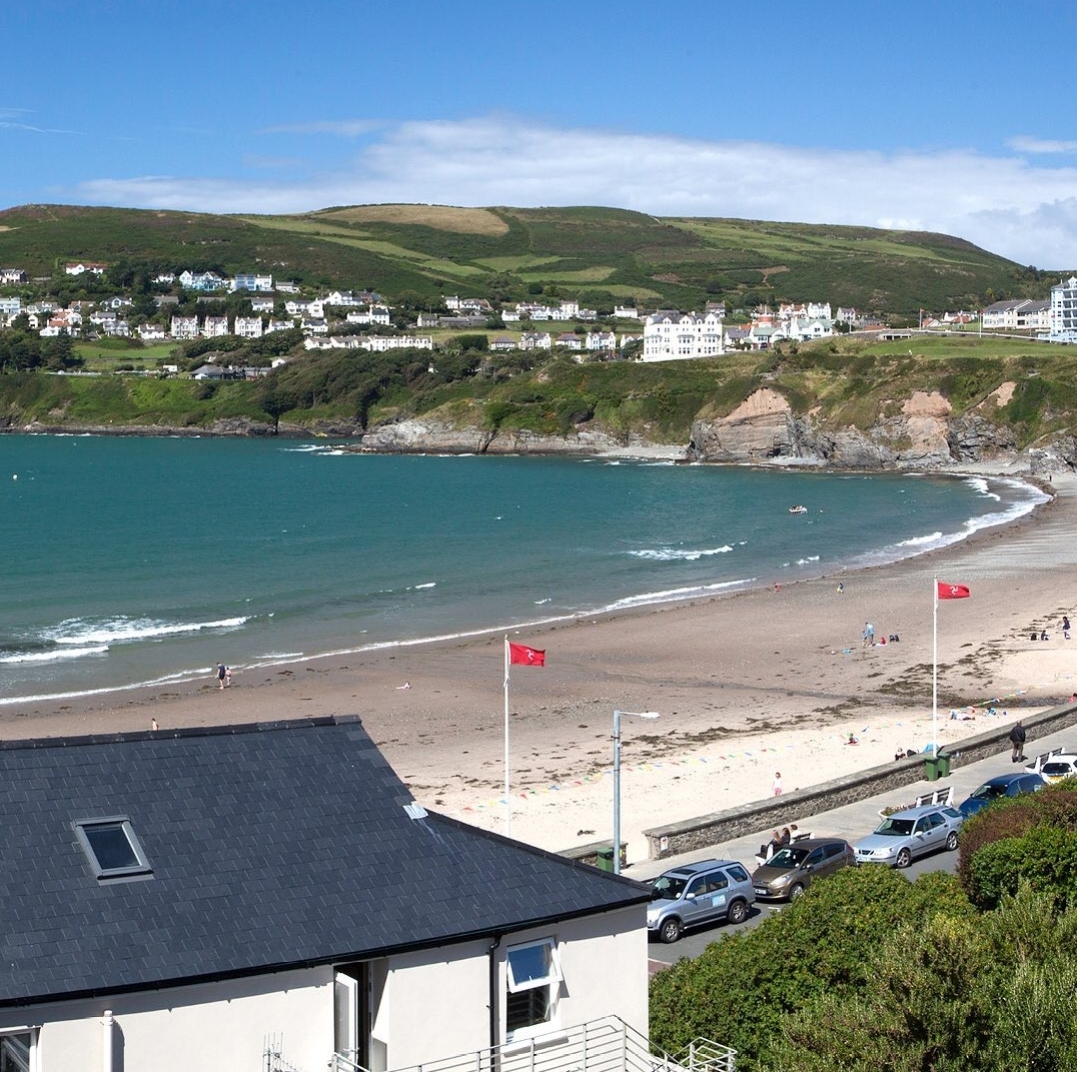 The beautiful U-shaped bay of Port Erin really helped me feel calm and safe, with two focal points to concentrate on: The lighthouse when travelling left (Port Track), and the Bay Hotel when travelling right (Starboard Track). When I knew I was on my way down into the water, I didn't panic, as I was never far from the shore in this forgiving bay. 
One last go, I was up! I was travelling towards the beautiful headland and the lighthouse. I attempted a turn, avoided falling in, and returned at a slow pace and an imperfect technique. But I had managed it and I couldn't have been happier.
Dave had discreetly been filming me with prior permission obtained, so i now had evidence of what i had achieved and felt so proud! 
Windsurfing for friends and family on their IOM staycations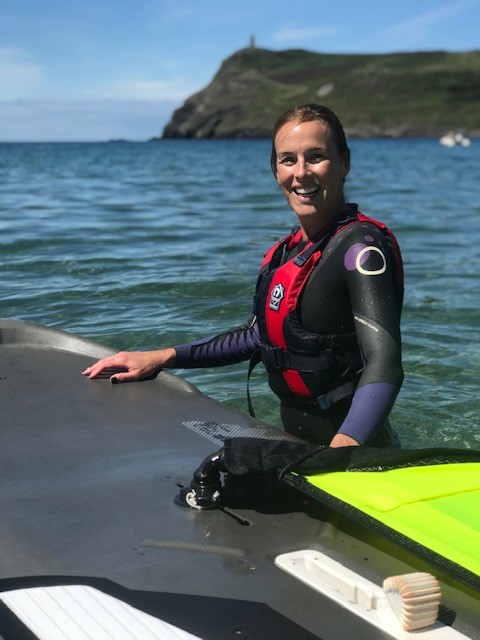 Now I know to quit when I'm ahead, and Dave had timed this lesson beautifully, with enough time both for instruction and having fun.
Straight away I was thinking about my next lesson, and running through my mind who in my friends and family would also love to have a go.  
Lunch overlooking the bay at Bradda Glen
We finished our day with a beautiful lunch at Bradda Glen sitting outside with tremendous views over the sea and bay, having a lovely natter catching up on the last 20 years and what our families are all up-to.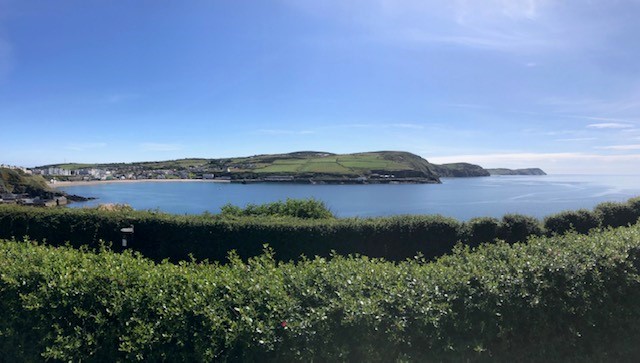 Such a patient instructor, and one of the most positive people I have ever met, I would highly recommend having a lesson. Watch my video below 👇 
Isle of Man windsurfing lessons
His season for beginner lessons usually starts in April and will be starting again after the current circuit breaker. Once you Whatsapp him with your interest, he will match the right weather conditions according to level and to ensure safety and to a great experience.
He will be posting the lesson opportunities on social media, and allocation will be on a first come first served basis, identifying potential opportunities about 3 days in advance, driven by the accuracy of weather forecasts.
You can hire wetsuits from him at the time of your lesson with half price wetsuit hire for Seaside Cottages guests, so no need to worry if you don't have one, and he even sells new boards and second hand equipment should you get an addiction to this fabulous activity. 
If you would like us to help you book it, message us here to get in touch. 
Dave also suggested ways to stay flexible and strong to prepare for the next lesson. A yoga session was just what I fancied the evening of my lesson, so a wonderful stretch with Harry and Emily from Bodycraft on the Port Erin headland that evening sun was an absolute pleasure. 
You can see more about Daves Waves on his website  and on facebook  or instagram  
My chat with Dave and 

my windsurfing experience
Watch my video of my chat to Dave and my windsurfing experience. Have a go, I'll certainly be doing it again!
Contact us here at Seaside Cottages if you would like to stay in the South of the Island. 
Our Four Star Gold Self-Catering holiday cottages sleep up to six people each, and are conveniently located close to the train station and the bus stop at Port Erin beach.

A stone's throw from Port Erin beach, sleeps six, space for sports equipment, next to railway station and bus stop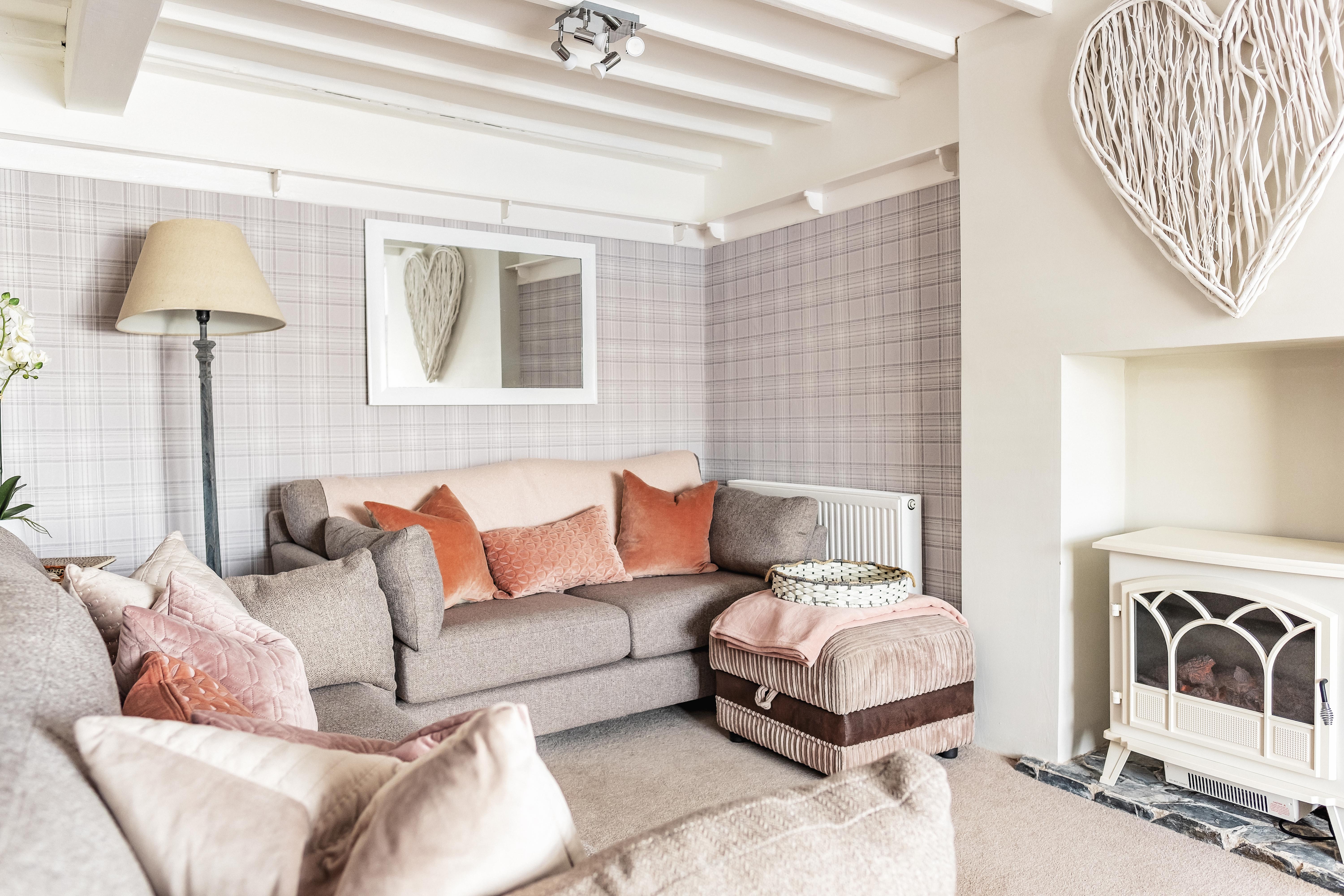 On Port Erin promenade, sleeps six, stunning seaviews from every room, private garden, ample parking outside or on the promenade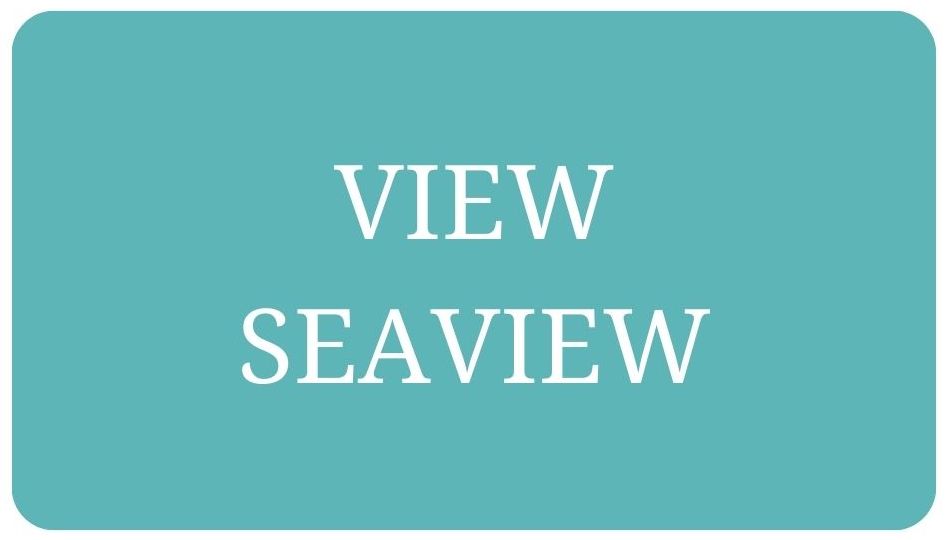 When you are here, why not check out our guide for "120 Activities in the Isle of Man"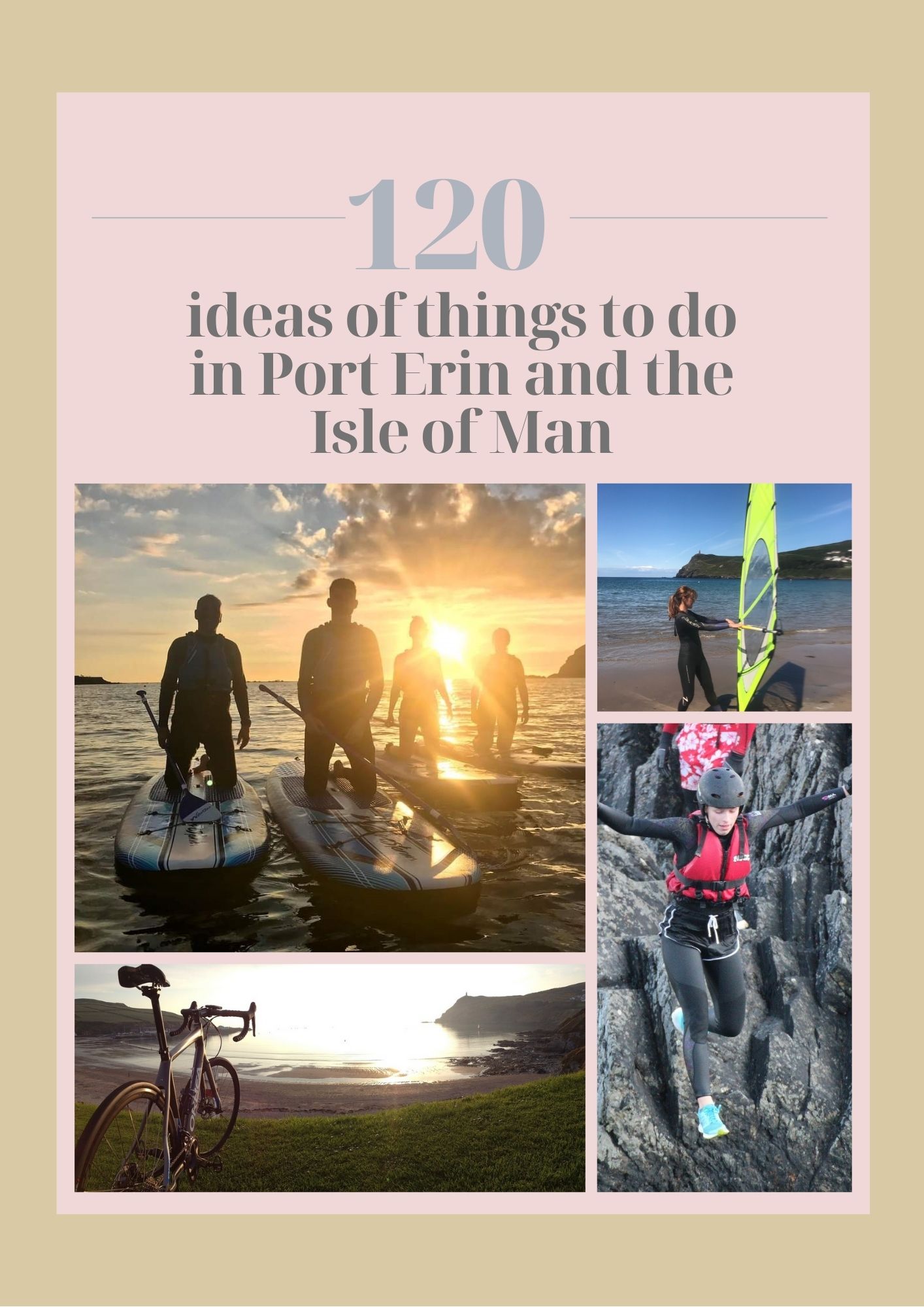 Click  👆
Covid cancellation policy
If a lockdown takes place and staycations are disallowed by the IOM Government at the time of your stay,  we will provide a refund. If your are coming from further away and the Isle of Man borders are closed at the time you plan to take your holiday, a refund will also be issued.   
Enjoy your Isle of Man holiday home whilst staying at the beach in Port Erin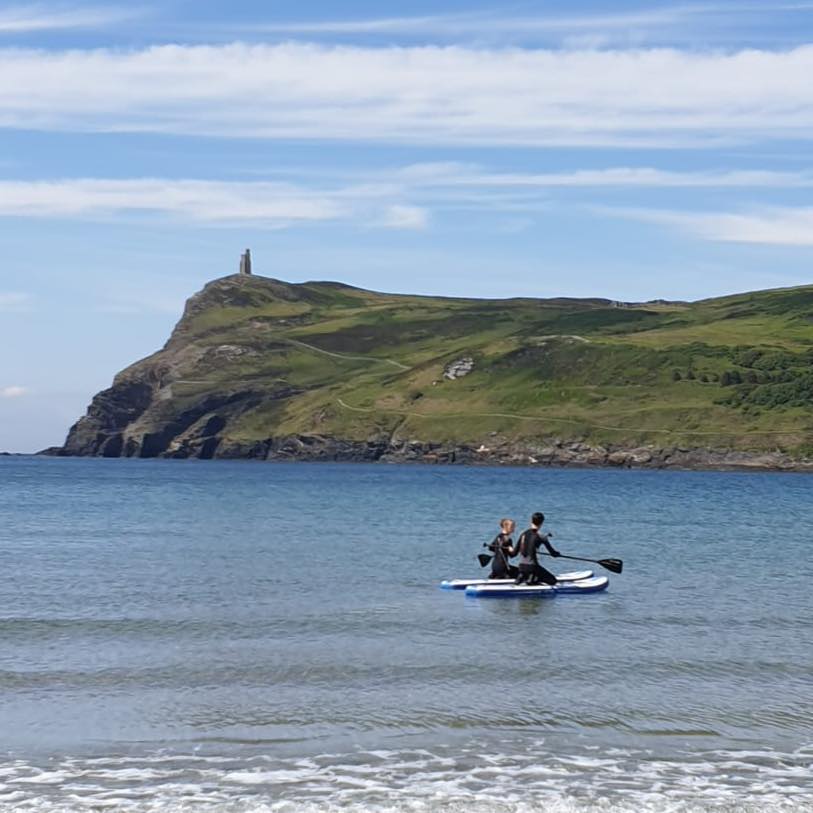 Speak soon


Follow us on instagram and facebook to see us enjoying all of these activities ourselves!!
To sign up for interesting articles about the Isle of Man, our emails and special offers