5 useful hints when open water swimming
September 1. 2020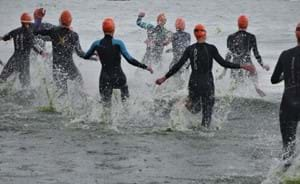 There is no feeling like the exhilaration and excitement of open water swimming, and the Isle of Man is the perfect place to take the plunge, especially Port Erin.
Adrenaline pumps through your body as you jump into the bracing water. Along with this being hugely sociable and endorphin-creating, the health benefits are tremendous, and often not widely realised, such as a boosted immune system, and better sleep.
There are plenty of regular hardy open water swimmers to join on the Island, with regular meeting points.
After practicing in a pool until you are ready to take the plunge, you need the right gear. You can wear your usual swimming costume underneath your wetsuit, and swim socks plus swim gloves are useful in low temperatures.  
Here are our top 5 tips when open-water swimming, and ones which we wish we had known when we first started!
1.Equipment
Layer a thermal hat underneath a second bright hat so other people can easily see you.  A thermal hat that has a chin strap is a particularly good idea in low water temperatures. Goggles are a necessity, and its best to have them adjusted correctly before you get into the water. The wrong pair or fit could leave you treading water when you want to be swimming, or a greasy lens could mean you are unable to sight properly. Specific open water googles are useful for maximum vision, and UV protection helps shade your eyes in strong sunshine. Always rinse them well afterwards.    
2.Safety
A high visibility float with an attachment to be tied around your waist is a good idea, and adds extra confidence to those watching you from the shoreline, or swimming in your group. Never swim alone, and make sure you stay in sight of others. Buddy up with another swimmer to look after each other and have a plan of the point you are aiming for.   
3.Your wetsuit and how to get it on!
This is never easy! A useful tip is to stand with a plastic bag on each foot, slip your feet through the legs of the wetsuit one after the other,  and once you are in with your wetsuit upto your waist, pulled as high up your legs as possible, remove the bags. Once over your arms, ensure someone can assist you with zipping up the back, and keep the chord outside the suit for easy removal later on.
Choosing the right wetsuit can be complicated. This depends on the thickness (influencing the thermal properties and flexibility) you are looking for and the buoyancy you require in your legs. A wetsuit with a ratio of 3:5 means 3mm in the body and 5mm in the legs, which naturally lifts your legs higher in the water. If you have a stronger swimming background and your legs already sitting high in the water, a 4:4 will suit best. When buying a wetsuit, look closely at the sizing guide which takes into account height and weight, and if in doubt, go for the larger size, and a wetsuit that is thicker to keep you warmer, even if the flexibility is slightly compromised, unless of course you are racing.   
4.Fins
If you are building confidence or perhaps want to swim alongside others who may be stronger, fins are a good idea for your first few open water swims. Its not easy walking to the water line or down the jetty in fins, and (other than looking hilarious to passers-by) could result in a nasty slip. So wearing flip-flops or beach shoes whilst carrying your fins is a good idea, and  leave your flip-flops safely somewhere that they cannot be washed away for your return trip up the beach. Take care not to leave them on the beach if you think the tide is on its way in! Once safely near the water, put on your fins.
5.Changing- towel
The best piece of equipment we could recommend- a large towel with a hood that you place over your head, and you can change underneath it, preserving your modesty at the same time!! There is nothing worse than coming out of the water to change, numb fingers, struggling with straps and zips and not being able to hold a towel at the same time. Open water swimming got better once we purchased one of these!   
If you are staying with us in Palm Villa, it is so close to the beach that you don't even need to get changed out of your wetsuit – its less than 30 seconds walk and you are back at the house, ready for a steaming hot shower in the beautiful downstairs ensuite bathroom, with the coffee on.  
If we can provide any further suggestions on kit or places on the Island we recommend to swim, please contact us and we will be delighted to help.