Want a simple beginner's guide to the thrilling Isle of Man TT Races?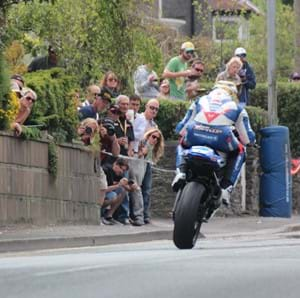 Isle of Man TT
If you have never experienced an Isle of Man TT, you need to!
We can't wait to see it's return in in May, and it's a huge part of the Isle of Man's yearly calendar for fans and locals. 
2023 HOMESTAY TT WEEK AVAILABILITY ON TT COURSE NEAR GRANDSTAND 
Exciting and terrifying motorcycle racing on open roads
During the last week of May and first week of June each year,  motorcycle racing on the open roads takes centre-stage on the Isle of Man with world class riders and legends competing in five different race categories.
A gripping and action-packed atmosphere on the beautiful Isle of Man
This is more than just an incredible festival atmosphere. The nerves, the adrenaline rush, the smell of the burning rubber on the roads, the loud speaker piercing the air, the thrill of the action, then the after-party!

Autocar India 
Excitement building
There a sense of quiet and calm as the roads close and crowds start to build, with stomach churning excitement.
Then the sound over the loud tannoy of the riders setting off, and in a moment they are whizzing past, eyes wide and focused, seeing nothing but the road in front of them, deeply in the zone.
As each rider passes the crowds head's turn in unison , radio speakers held to their ears, programmes in their hands, recognising the riders.
Then in a flash the rider has gone, helicopter cameras following them overhead, and the next rider there in a blur seconds later. 
The atmosphere is electric, the drama is fascinating, and the excitement is contagious.  
Isle of Man TT Traditions
Not a year goes by when our family doesn't sit down to "Closer to the Edge" just before practice week each year to get in the mood, and look forward to some TV coverage.  
I hold great memories of past TT race weeks, thinking back to an 18 year me, standing on the starting grid with Joey Dunlop and Phillip McCallen, holding Honda umbrellas and feeling the excitement build.
It was usually Joey at the centre of the podium, and later as we stood in the race tent with fans admiring the very bikes that had aced the race, Joey would be well on his way to a celebratory evening!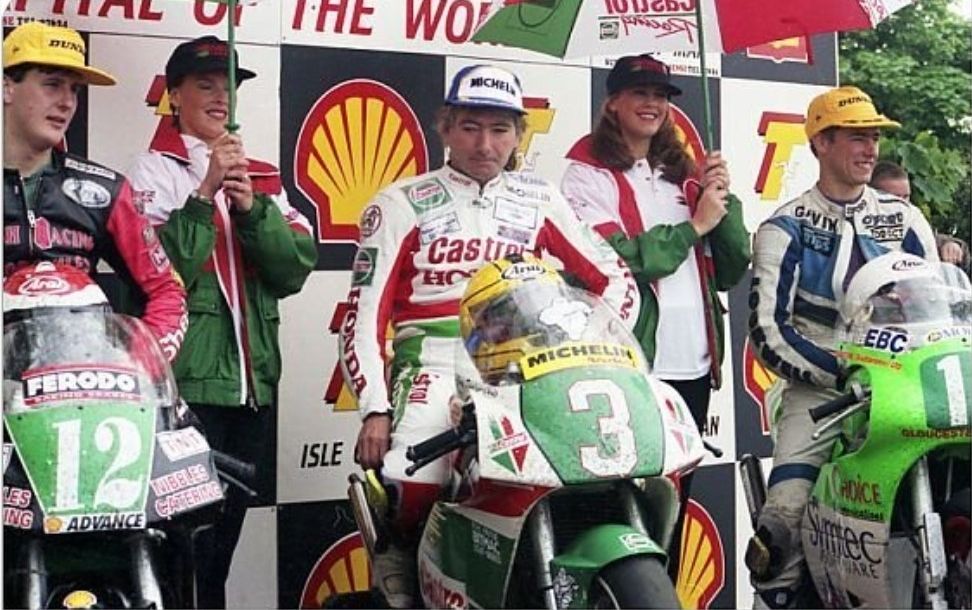 Our great memories of TT weeks with these heroes  
My memories of being so close to the riders during TT week stuck with me, and the excitement has never left.
It has always been a time that, if friends were planning to visit the Isle of Man, I would persuade them to come during TT Festival, enjoy the racing, live bands, Busheys village. Plus a week of van food since it doesn't count when it's TT!!!!!
Beginner's Guide to the TT!
For those who know the TT, you will know everything about it. But if you are experiencing TT in 2023 for the first time, here is my beginners guide: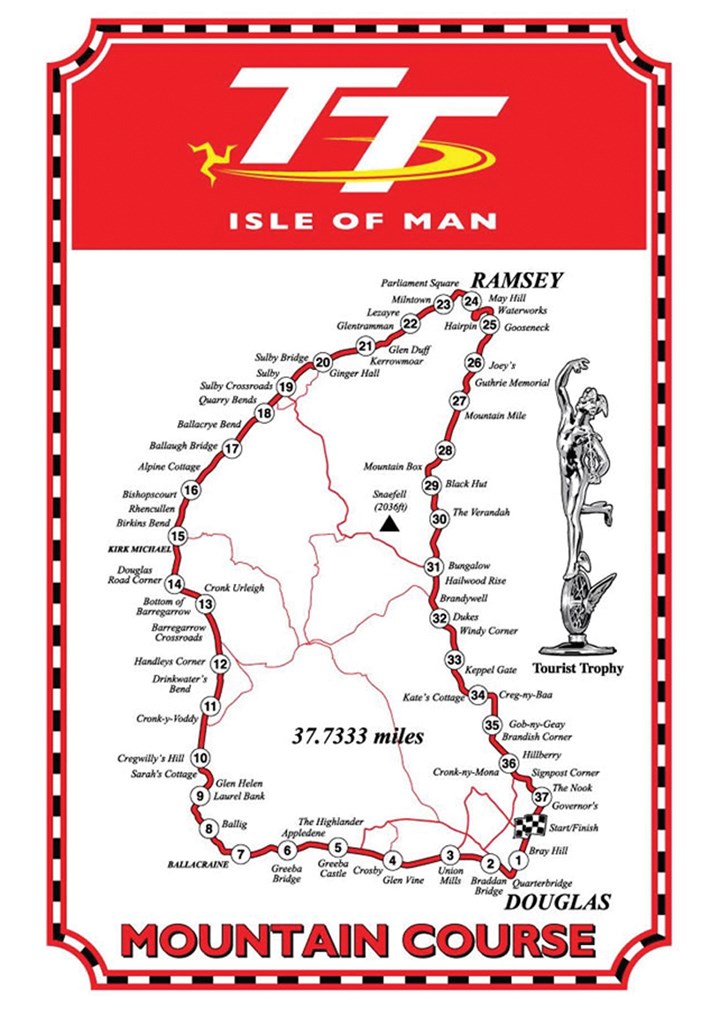 What does the TT stand for in the Isle of Man TT Races?
Tourist Trophy, the motorcycle racing event run on the Isle of Man's open roads each year
When is TT  Week?
Qualifying week is usually the last week in May, with racing from the first Saturday of June. 
How did the Isle of Man TT first start? Why is the TT on the Isle of Man?
In 1904, when the Gordon Bennett car trials were held, public roads in England were unable to close for motor racing, so a proposal was put the Isle of Man Government. New Manx legislation was passed, and the rest is history.
What is the TT course?
Originally on a shorter circuit, in 1911 it moved to the Mountain circuit, the same circuit used today. Its 37.73 miles long running from Glencrutchery Road, west through Braddan, Union Mills, Glen Vine and Crosby, then right at Ballacraine crossroads. Up through Glen Helen, Kirk Michael, Ballaugh and Sulby to Ramsey then south onto the Mountain at 1400ft above sea level.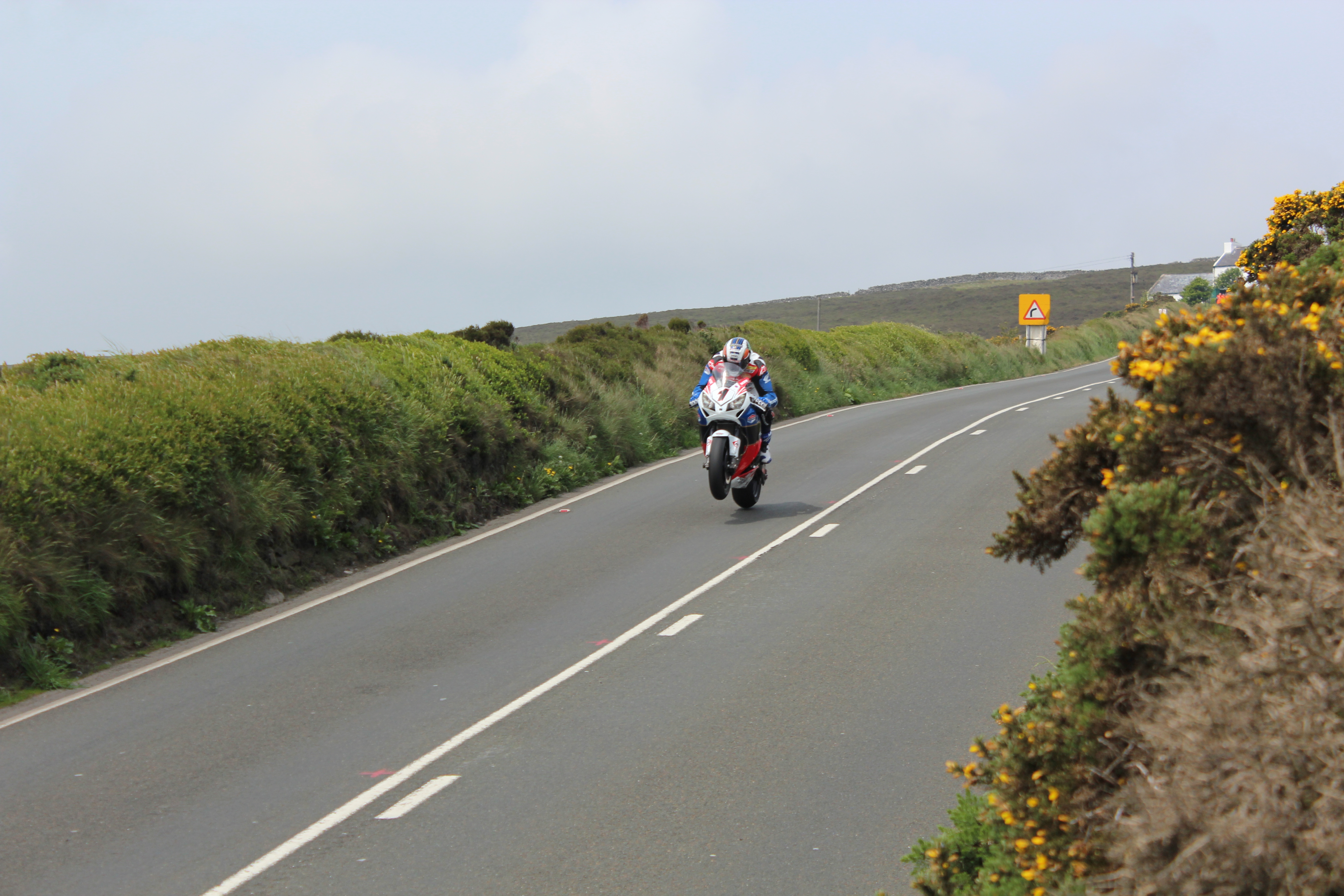 How long does it take to do a lap of the Isle of Man TT?
Riders can have a breath taking average speed of up to 135 mph, doing sub-17 minutes for this course. A test of physical and mental strength, and endurance, you wonder how this is actually possible for a human being!
How many laps are in the Isle of Man TT?
The Senior TT is six laps. The Superstock, Supersport and Lightweight categories are a four lap race, and the Sidecar riders race three laps. 
                                                                                        Photograph Tru-Tension
What is the top speed at the Isle of Man TT?
The current fastest average speed is 135.452 mph recorded by Peter Hickman on the final lap of the TT Senior race in 2018, in near-perfect track conditions.  
How fast are the Sidecars?
The incredible sidecars will reach a speed of 161 mph, with both the driver and passenger steering the vehicle.

Photo Martin Elliott
Who are the Top 10 TT riders
(In order of victories, info taken as at June 2022 from Bennetts with thanks)

Early 90s with Joey on the starting grid  
1.At the top with the most TT wins is hero Joey Dunlop, with an incredible 26 Isle of Man TT wins.
| | | |
| --- | --- | --- |
| 2 | MCGUINNESS, John | 23 |
| 3 | DUNLOP, Michael | 21 |
| 4 | MOLYNEUX, Dave | 17 |
| 5 | HUTCHINSON, Ian | 16 |
| 6 | HAILWOOD, Mike | 14 |
| 7 | ANSTEY, Bruce | 12 |
| 7 | BIRCHALL, Ben | 12 |
| 7 | BIRCHALL, Tom | 12 |
| 7 | LOUGHER, Ian | 12 |
| 8 | HISLOP, Steve | 11 |
| 8 | MCCALLEN, Phillip | 11 |
| 9 | AGOSTINI, Giacomo | 10 |
| 9 | FISHER, Rob | 10 |
| 9 | WOODS, Stanley | 10 |
| 10 | BODDICE, Mick | 9 |
| 10 | HICKMAN, Peter | 9 |
| 10 | JEFFERIES, David | 9 |
| 10 | SCHAUZU, Siegfried | 9 |
How do I watch the TT?
Like us, sitting behind a hedge at the side of the road with care! Sometimes we will treat ourselves to a Grandstand ticket, but we love packing a picnic, heading to a spot near the mountain, and trekking to somewhere different each day to take in the atmosphere on the road. 

Photo Martin Elliott
Qualifying week we will watch as much as we can, a more relaxed vibe with riders pulling in after their lap to sign some autographs.
During TT Race week, we will watch from a spot where we can clearly hear the loudspeakers, then if we are having an evening off the festivities on the promenade or Bushy's village, we will relax in front of TV coverage to enjoy the bits we missed during the day.
The Afterparty - The TT Festival
You never know who you might see later on in the evening. It could be Davo Johnson in a bar, Michael Dunlop watching a band, or John MgGuinness queuing for an Ice Cream. If you are lucky, Conor Cummins may even serve you a coffee from his Coffee-Mann empire.

Photograph Mike Wade 
You're that close to the riders, the superstars, who are enjoying the atmosphere just as much as the rest of us!    
How do I get to the Isle of Man to watch the TT
You can travel by Steam Packet Ferries, from Heysham, Liverpool, Dublin or Belfast. 

Photograph Martin Elliott
Or fly from UK airports into Ronaldsway in the South of the Island in as little as 40 minutes.
Hire a car or hire a motorike once you are here, or get around by public transport. Hiring pushbikes is also a popular way to get from your accommodation to the racing. 
Where can I stay for TT?
Camping or "home-stay" are popular. Locals hosting fans and teams in their homes works well,  and brings a new level of excitement for Manx population enjoying it as much as visitors.
Or stay in luxury self-catering accommodation close to local pubs, bars and eateries, and plenty of entertainment happening in the evenings.
Contact us here at Seaside Cottages if you would like to stay in the South of the Island. 
AVAILABILITY 26th May to 1st June 2023 in Palm Villa, Port Erin beach. Sleeps 6. 
AVAILABILITY 31st May to 2nd June 2023 in Castleview, Castletown. Sleeps 8. 
  
Our Four Star Gold Self-Catering holiday cottages sleep up to six people each *, and are conveniently located close to the train station and the bus stop at Port Erin beach.
(*Castleview can sleep up to 10 - One kingsize bed, four single beds, 2 * double sofabeds )  
TT HOMESTAY
Plus new for 2023, on the TT course at Ago's Leap Registered Homestay Executive Bed and Breakfast, five minute walk from The Grandstand. Details here 
Availability:
Room 1:
6th June to 8th June 
Room 2:
9th June to 12th June   
Availability for the holiday cottages is on the website along with full details and pictures, and more can be seen on our Instagram page.   
Click below for details and availability:
Castleview Castletown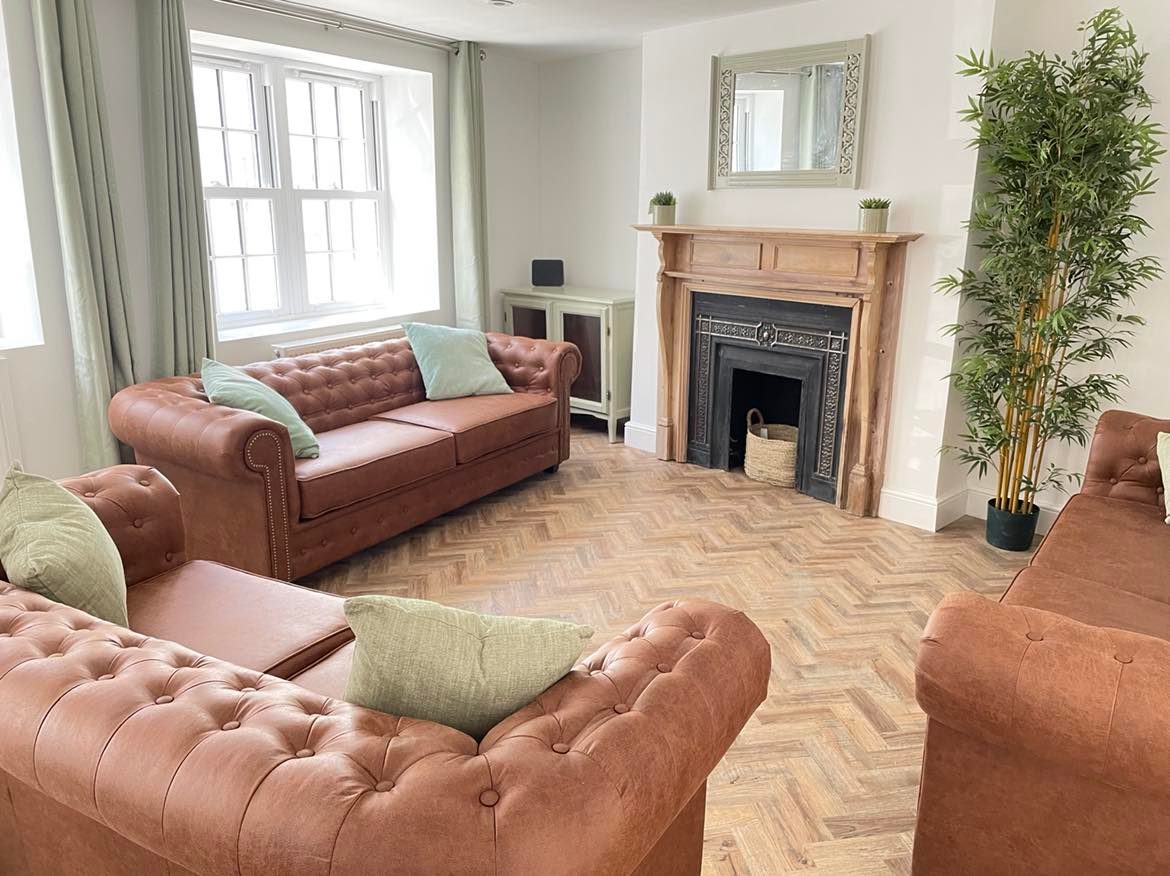 Central Castletown close to Castle Rushen, Castletown Harbour and Castltown Square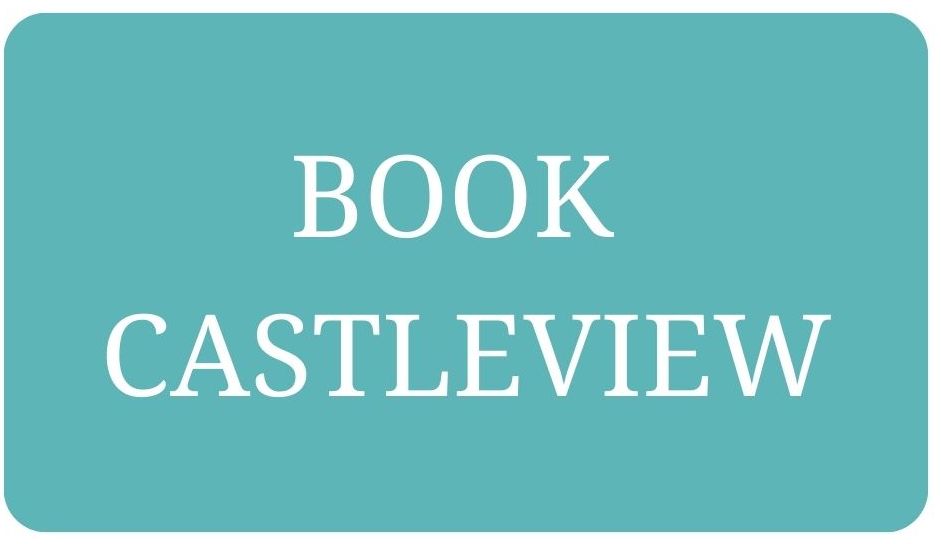 A stone's throw from Port Erin beach, sleeps six, space for parking motorbikes directly outside, next to railway station and bus stop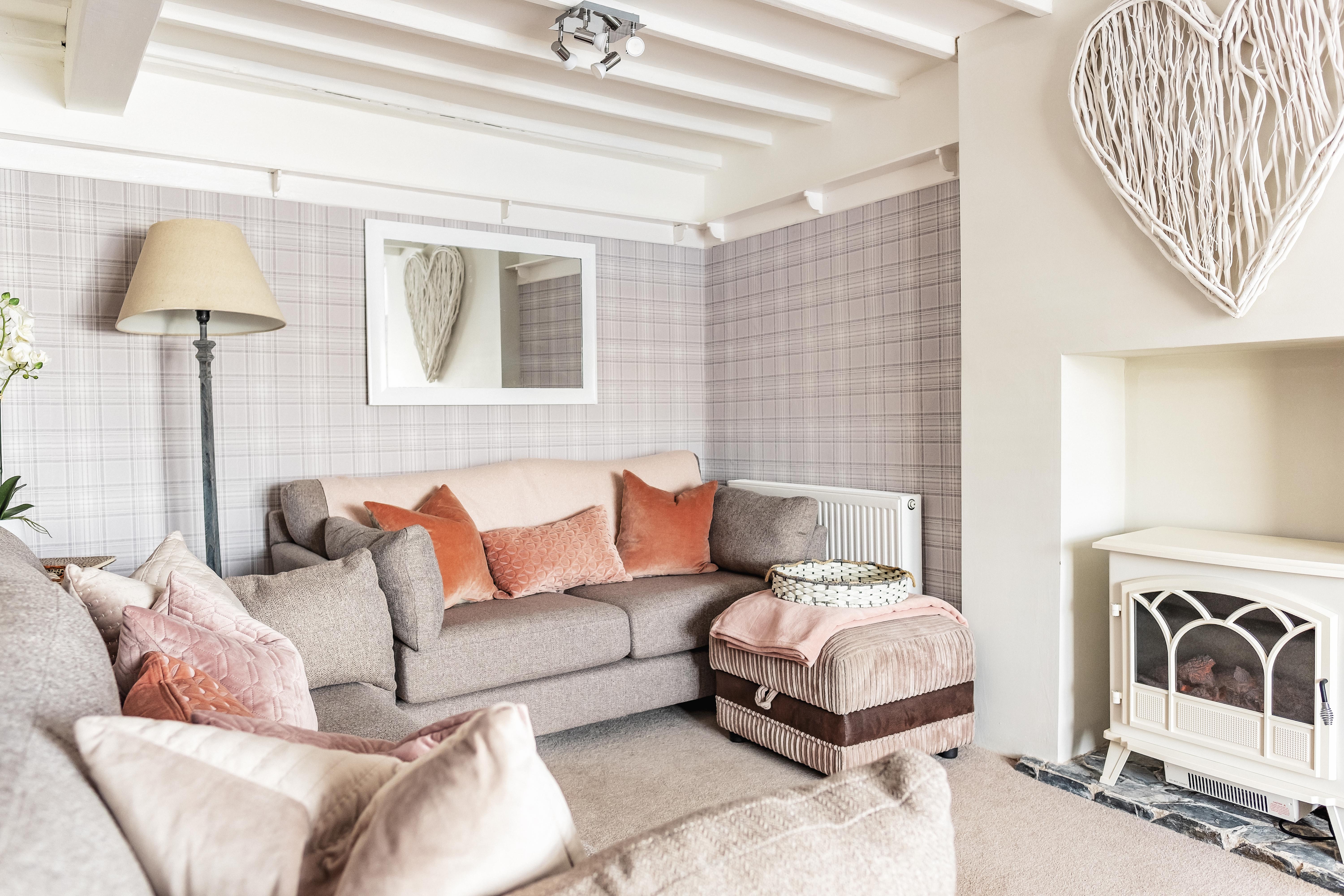 On Port Erin promenade, sleeps six, stunning seaviews from every room, private garden, ample parking outside or on the promenade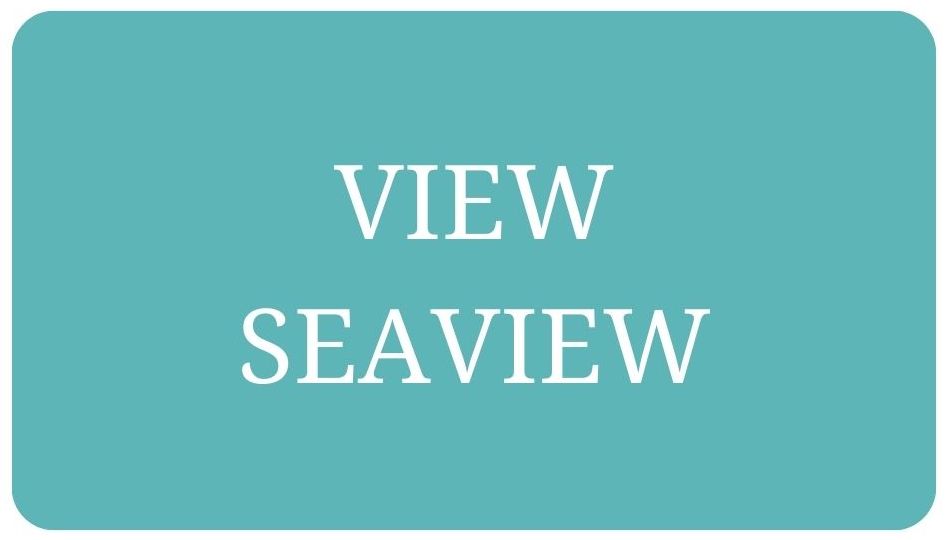 When you are here, why not check out our guide for "120 Activities in the Isle of Man"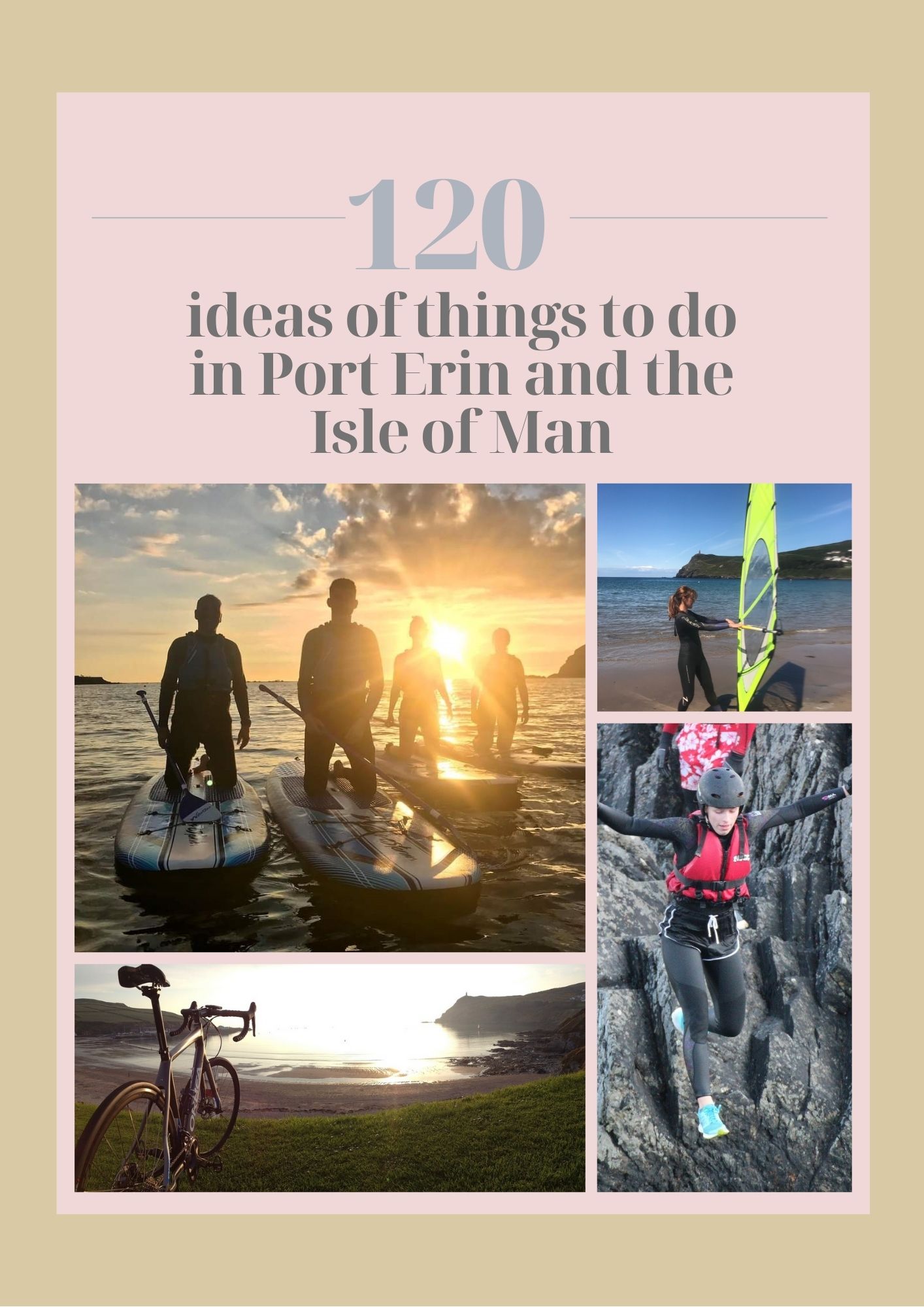 Click  👆
Or if you want some live music while you are here, check out our guide to Live music Venues in the South
and for eating options, read our 26 Eating Venues in Port Erin & The South  
For our other articles about the Isle of Man, and things to do, go to www.seasidecottages.im