UNESCO Biosphere Isle of Man - Why we are so proud to be a partner
July 8. 2020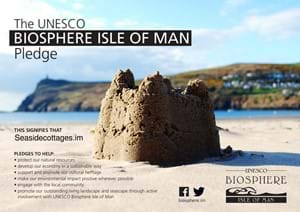 We have felt proud of the Isle of Man over the last few months, and are incredibly grateful to leaders for getting us to the stage where we now have the ability to function with some normality. By staycationing on the Isle of Man, and having some time to stand still, it has made us realise what a truly fantastic place it is, and we feel immensely happy to call it home.   
"Entire nation" UNESCO Biosphere
One of the Isle of Man's many special attributes is that it is the only 'entire nation' UNESCO Biosphere in the world.
UNESCO is the United Nations' Educational, Scientific and Cultural Organisation.
The programme began in 1971, initially concentrating on experimenting to find solutions to care for land, sea and species. It was expanded in the mid-1990s to also reflect areas' economy, culture, heritage and community.  The Isle of Man was admitted to the world network of Biosphere reserves in 2016 and is one of 701 Biospheres in 124 countries and one of eight UK and Ireland Biospheres (the Island reports to UNESCO via UK MAB).
What is a Biosphere?
In order to become a Biosphere, a location must have two key features: people and a special environment.
The three central platforms of the Biosphere programme, globally, are sustainable development, conservation and education.
The programme encourages Biospheres to work towards the United Nations' 17 Sustainable Development Goals, or Global Goals, a blueprint for a better future for people and the planet.
The environment and landscape of the Isle of Man
With its temperate climate, beaches, cliffs, marine life and proximity to the sea and countryside wherever you are, there are acres of unspoilt landscape where nature can thrive.
Heritage
With historical landmarks and castles, Viking burial grounds, Celtic crosses and mythical stories, the Island still celebrates today its uniqueness and proud heritage through community activities and festivals including the Isle of Man TT
Community
With a particularly strong sense of community, local businesses schools and groups support local social and environmental projects, from regular tree planting and beach cleaning to the Manx Solidarity Fund launched to fund raise and support those in need who have been affected by Covid 19.  
What does UNESCO Biosphere status mean for the Isle of Man?
Our rich heritage, vibrant culture, robust economy, incredible landscapes and the outstanding sense of community all contribute to the special environment. 
Our Biosphere status encourages us to learn about and cherish what we have in the Isle of Man and safeguard it for the future by making good decisions, as individuals, as organisations and as an Island. 
It tells potential new residents and visitors that we are a special place for people and nature and have a conscience.
How we support
As proud partners, Seaside Cottages  are delighted to support Unesco Biosphere using local suppliers, working with and supporting local businesses, and recycling waste. We aim to collaborate with other UNESCO Bisophere partners, and are delighted to play our part in sustainability and protection. 
For any further information, contact us here or visit the Unesco Biosphere website: 
Seaside Cottages
If you would like a change of scenery and stay in one of our holiday cottages in Port Erin, please contact us . Palm Villa and Seaview are at Port Erin beach, with three bedrooms, sleep six, and are dog friendly. 
To see Seaview click HERE
To see Palm Villa, click HERE  
See www.seasidecottages.im for further details. 
Gift vouchers are available by emailing seasidecottagesiom@gmail.com or send a message on Seaside Cottages  site 
To sign up for interesting articles about the Isle of Man, our emails and special offers
Read our blog featuring: 
26 top restaurants and cafes in Port Erin and the South
Live music venues in the South
Walking Holidays in the Isle of Man